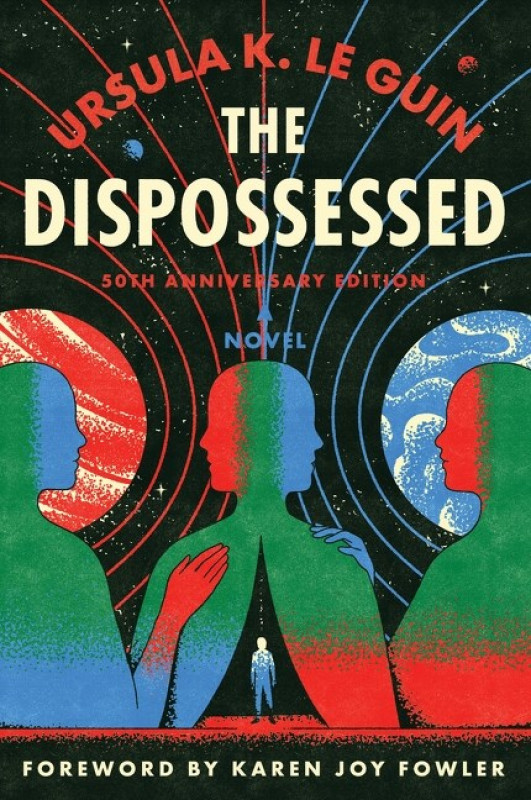 A bleak moon settled by utopian anarchists, Anarres has long been isolated from other worlds, including its mother planet, Urras—a civilization of warring nations, great poverty, and immense wealth. Now Shevek, a brilliant physicist, is determined to reunite the two planets, which have been divided by centuries of distrust. He will seek answers, question the unquestionable, and attempt to tear down the walls of hatred that have kept them apart.
To visit Urras—to learn, to teach, to share—will require great sacrifice and risks, which Shevek willingly accepts. But the ambitious scientist's gift is soon seen as a threat, and in the profound conflict that ensues, he must reexamine his beliefs even as he ignites the fires of change.
Loved by our collective!
First published in 1974, Ursula K. Le Guin's The Dispossessed shook the core of what I believed possible. It's imagined anarchist utopia, and resulting societal struggles, take place on the barren moonlike planet of Anarres. The story that follows inspires a rigorous intellectual exercise while managing to maintain an emotional quality. Through compelling characters and world building, Le Guin questions and challenges our ideas of language, land, love, and humanity and juxtaposes an attempt at an ethical society with a home planet that continues to exploit, oppress, and extract from its people and land. In the end, little is resolved but everything has changed. There are no easy answers, but The Dispossessed opens up a world of wonder and imagination that can, possibly more than any other work of fiction, aid in the move towards a liberated society.
---
Product Details
Paperback

400 pages

ISBN

9780060512750

Publisher

Harper Perennial (8/14/03)

Dimensions

5.3 x 0.9 x 8 inches

Tags

Tags

locus award, nebula award, utopia
---