Change the World Before Bedtime
By Josh Chalmers, Karen Good and Mark Kimball Moulton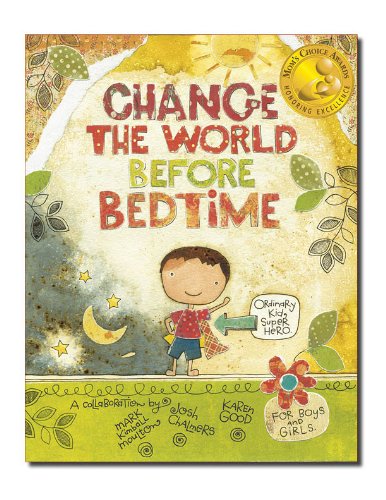 No Longer Available
This item may be out-of-print. For more information, please contact us.
The Mom s Choice Awards® Names Change the World Before Bedtime
Among Best In Family-Friendly Products (or Services)and received Gold Medal Award. Written in simple, engaging rhyme, this story takes an inspirational look into how the little things in life a smile, a kind word, a simple deed can help change the world in a big way. Through 18 stunning illustrations, children will read about eating right, cleaning up the Earth by recycling and conserving, helping the sick and those less fortunate, and working in a group to make bigger miracles. Even an ordinary kid can be a superhero before bedtime! Grades Pre-K to 2.
---
Product Details
Hardcover

32 pages

ISBN/SKU

9780764342387

Publisher

Schiffer Publishing, Ltd. (7/28/12)

Dimensions

9 x 0.6 x 11.3 inches

Tags
---