Brown Bear, Brown Bear, What Do You See?
By Eric Carle and Bill Martin Jr.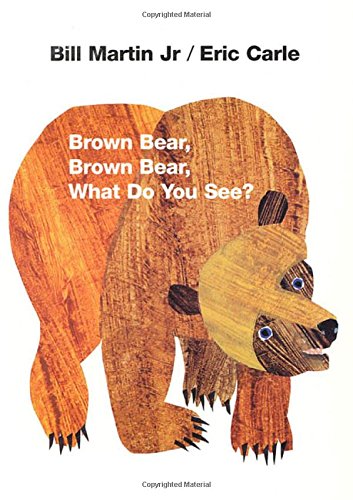 The Origins of Brown Bear
On a train ride in 1966, the title phrase Brown Bear, Brown Bear, What Do You See? popped into Bill Martin Jr.'s head. Later, he spotted an illustration of a red lobster in a magazine and contacted the creator, Eric Carle, to ask if he would illustrate his poem. So began Eric Carle's career as a children's book illustrator--along with a life-long collaborative friendship with Bill Martin Jr. Since then, Brown Bear and the three companion titles, Polar Bear, Panda Bear, and Baby Bear, have gone on to sell millions of copies worldwide.
The Bear books are a cultural landmark and a key milestone in many children's reading lives. And many adults today remember reading the Bear books themselves as well as the experience of reading them for the first time to their own children. Whether in a picture book or a reader, and now in eBook and audio, the same bold graphics and repetitive, rhythmic text have truly stood the test of time.
Throughout Eric Carle's career, he has shown an unshakeable commitment to artistic integrity and a dedication to making art accessible to children. His skillfully designed and beautifully rendered collage art is admired by fellow artists, colleagues and fans in equal measure. And in 2002, with his wife Barbara, Eric founded The Eric Carle Museum of Picture Book Art in Amherst, Massachusetts, the first museum of its kind in the United States.
--Laura Godwin, Vice President and Publisher, Henry Holt Books for Young Readers

A Question for Eric Carle
Before the Bear books, you worked in advertising but had not yet created a children's book. What went through your mind when you first heard from author Bill Martin Jr. about the Brown Bear manuscript? What made you want to illustrate it?
Eric Carle: At that point I was doing work-for-hire and I was very pleased to have the chance to do something different. I went through the manuscript and could see in my mind images of bright colorful animals, big and bold and simple like in posters. I was actually able to finish the art for this book and deliver it in one weekend. The whole process felt right and I was very excited by the opportunity to work on the book with Bill, which really changed my life and set me on the true course in my career.
Eric Carle at work in his studio, Northampton, MA
Sketches of Mama Bear for Baby Bear
Eric Carle, holding a sketch from Baby Bear
---
Product Details
Board book

26 pages

ISBN/SKU

9780805047905

Publisher

Henry Holt and Co. (BYR) (9/15/96)

Manufacturer

A think Dot

Dimensions

4.9 x 0.6 x 7 inches

Tags

Tags

board book
---