The Lathe Of Heaven
A Novel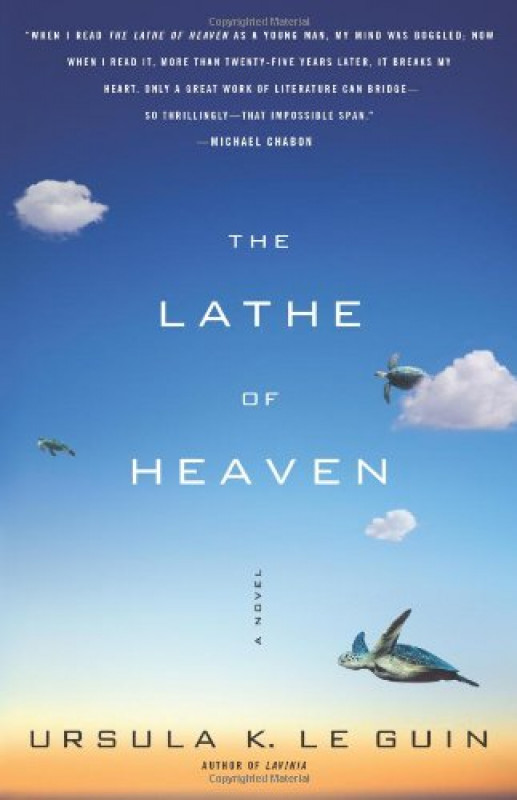 A classic science fiction novel by Ursula K. Le Guin, one of the greatest writers of the genre, set in a future world where one man's dreams control the fate of humanity.
In a future world racked by violence and environmental catastrophes, George Orr wakes up one day to discover that his dreams have the ability to alter reality. He seeks help from Dr. William Haber, a psychiatrist who immediately grasps the power George wields. Soon George must preserve reality itself as Dr. Haber becomes adept at manipulating George's dreams for his own purposes.
The Lathe of Heaven is an eerily prescient novel from award-winning author Ursula K. Le Guin that masterfully addresses the dangers of power and humanity's self-destructiveness, questioning the nature of reality itself. It is a classic of the science fiction genre.
Loved by our collective!
George Orr exists like a jellyfish in the ocean: fluid, free flowing, and deceptively dangerous. His mild demeanor covers for the unpleasant truth that his dreams can alter reality. When an ambitious psychiatrist and sleep researcher discovers George's power, the doctor attempts to use his ability to change the world for the better. What follows is a mind-bending meditation on the limits of knowledge and what it means to shape the world around us. A philosophical musing on the clash between the drive toward progress and the willful equanimity of acceptance, Le Guin's science-fiction classic is a meaningful read for anyone struggling to understand and respond to the scale of human-made suffering in our world today.
---
Product Details
Paperback

192 pages

ISBN

9781416556961

Publisher

Scribner (4/15/08)

Dimensions

5.5 x 0.5 x 8.4 inches

Tags

Tags

locus award
---