Questions and Swords
Folktales of the Zapatista Revolution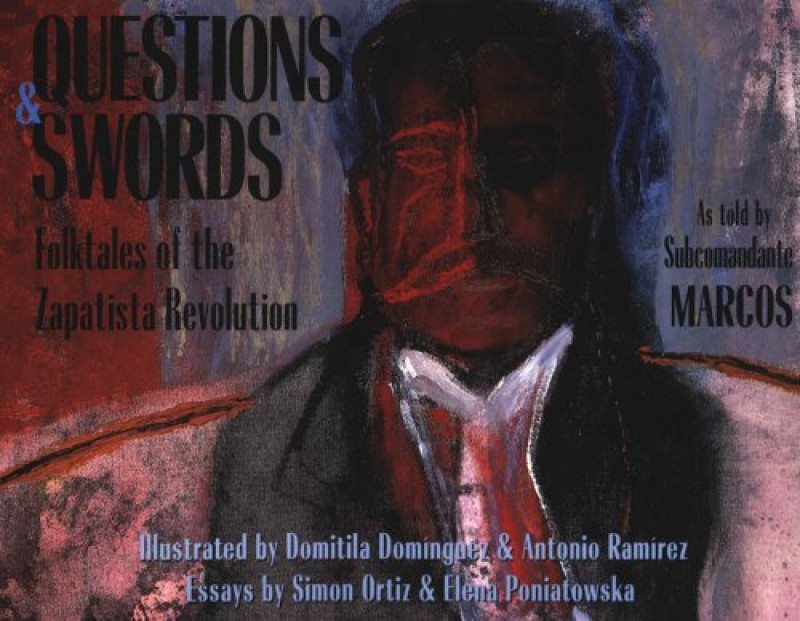 By Domitila Domínguez, Simon Ortiz, Elena Poniatowska, Antonio Ramírez and Subcomandante Marcos
Once again sharing the wisdom of Old Man Antonio and his Mayan heritage, Subcomandante Marcos tells two folktales from the Zapatista rebellion against the Mexican Government.
"The Story of the Sword" is an ancient parable that demonstrates how the indigenous peoples of Mexico can finally defeat the European invader. The tree, for instance, tried to fight the sword, but was defeated. The stone likewise tried to fight the sword, but was defeated. But not the water. "It follows its own road, it wraps itself around the sword and, without doing anything, it arrives at the river that will carry it to the great water where the greatest of gods cure themselves of thirst, those gods that birthed the world, the first ones."
"The Story of Questions" relates how two gods, Ik'al and Votan, wander the earth wrapped forever in each other's arms. These two gods are the Ying and the Yang, the yes and the no, the night and the day of the Mayan universe. Antonio says, "When they got here they made themselves one and gave themselves the name of Zapata."
Mexican writer Elena Poniatowska and Native American poet Simon Ortiz contribute commentary to explain the significance of the Zapatista Rebellion to the 21st Century. They also discuss the use of folklore and artistic expression to expand our understanding of political thought.
Well-known Mexican artists Domitila Dominguez and Antonio Ramirez—co-directors of the Colectivo Callejero in Guadalajara—each illustrated one of the stories. The Colectivo is dedicated to expanding the understanding of revolutionary thought through artistic expression.
This beautiful full-colored edition—the successor to The Story of Colors that received international notoriety when the National Endowment for the Arts rescinded funding for its publication—will serve equally well as a coffee table book as well as a serious read for lovers of Latin American literature.
---
---