The Story of Colors / La Historia de los Colores
A Bilingual Folktale from the Jungles of Chiapas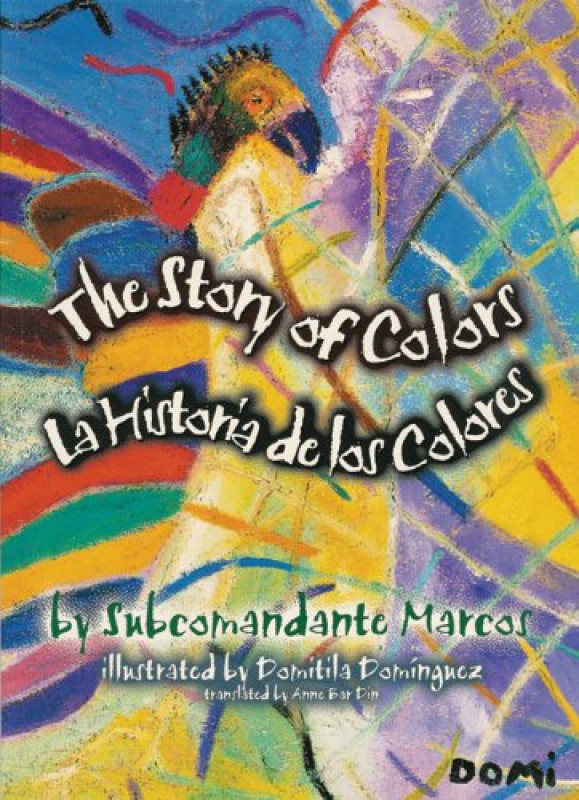 By Domitila Domínguez and Subcomandante Marcos
This wonderful folktale reveals some of the down-to-earth wisdom of the indigenous peoples of Chiapas. At the same time, it provides us with a fresh perspective on the struggles of the people there. They fight to conserve their culture and a vision of the world which they see as flowering with holiness--a holiness that cannot be measured in dollars or defined by politics.
The text for La Historia de los Colores is taken from the communiqué dated October 27, 1994 from Subcomandante Insurgente Marcos to the Mexican People. Originally published in Mexico with illustrations by Domitila Domínguez as La Historia de los Colores (c) 1996 by Colectivo Callejero, Guadalajara.
Who is Marcos?
Subcomandante Insurgente Marcos is the military strategist and spokesperson for the Zapatistas, an indigenous guerrilla movement in Mexico. It is his person, more than any other factor, that has pushed the Zapatista movement and the plight of the indigenous people in Mexico onto the international scene. Marcos continues to be the focus of media attention--in Mexico, in the States, and internationally, despite the Mexican government's attempts to discredit him.
On New Year's Day, 1994, Subcomandante Insurgente Marcos and the Zapatistas, wearing their trademark ski masks, erupted on the world scene by declaring war on the Mexican government and attacking military installations in San Cristóbal, Chiapas. Since that time, Marcos--because of his charm, intelligence and mystique--has become a post-modern revolutionary hero. In his communiqués to the Mexican people, he has often related folktales and stories that reflect the culture and wisdom of the indigenous peoples of Chiapas.
But no one seems to know who Subcomandante Insurgente Marcos is. The Mexican Government claims he is Rafael Guillen, but they're literalists. He says he's a Mexican like any other, born somewhere between the Atlantic and Pacific Oceans and between the northern and southern borders. He says he wears a ski mask because he is no longer whoever he was.
---
---