Portable Fortitude Playing Cards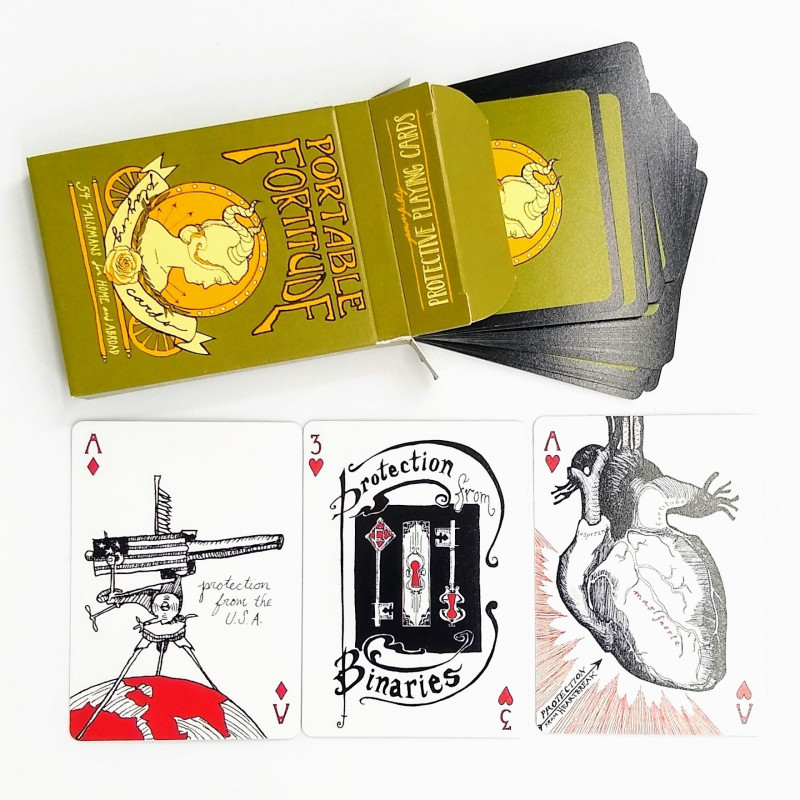 From Abacus Corvus
For uses both serious and frivolous: 54 illustrated playing cards, each imbued with the power to protect you from some common calamity.* **
Printed in the USA with high environmental and quality standards, Portable Fortitude has infinite uses, including: cartomancy (reading tarot with playing cards), spokecards for your bicycle, talismans on your altar, or standard card games. Educators use them in classrooms as writing and drawing prompts, writers use them to free associate, and many buy one deck to keep and another to split up and give away, card by card. Keep a card in your wallet for special protection (I always carry Protection from Bicycle Mishap), slip one in a friend's pocket, or string them all over your doorway to keep out all the bad mojo.
See all 54 images here.
Cards are coated to be fully playable, but use slightly thinner paper than standard poker decks.
*(except the court cards, who are emblematic of certain virtues)
**(effectiveness of cards' protective abilities varies)
---
Product Details
Type

Toys & Games

Artist

Abacus Corvus

Dimensions

2.5 x 3.5 x 0.5 inches

Tags

Tags

2020 magic, local
---