Nevada Paperback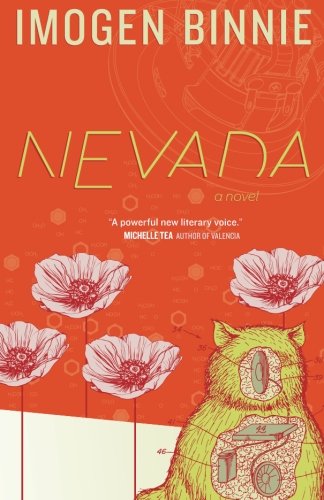 Out of Stock
This item is not currently in our inventory but may be on order. Contact us to reserve a copy!
Categories
Nevada is the darkly comedic story of Maria Griffiths, a young trans woman living in New York City and trying to stay true to her punk values while working retail. When she finds out her girlfriend has lied to her, the world she thought she'd carefully built for herself begins to unravel, and Maria sets out on a journey that will most certainly change her forever.
Loved by our collective!
What happens when your forced male privelage upbringing clashes with your margenilized and objectified reality as a transgender woman? What happens when your anarcha-feminist punk ideals clash with the real world? What happens when the girlfriend you wanted to break up wtih tells you she fucked your coworker before you get the chance?

Imogne Binnie's comically raw late-coming-of-age tale perfectly captures the lonely feeling of working through the mess of confusing and painful messaging coded in the brains of trans women, while also telling a tale as old as literature itself; the escape towards percieved knowledge.

This book is exactly what I needed. A regular ass story, about some regular ass problems, with a regular ass protagonist who just happens to be trans. The story of feeling like you don't know your place in the world is universal, but the stream-of-conciousness narration in the head of an articulate punk trans woman, at least to me as a trans woman, made me feel heard and understood like almost nothing else has. Like my own problomatic thought processes were being explained back to me.
---
Product Details
Paperback

262 pages

ISBN/SKU

9780983242239

Publisher

Topside Press (2/20/13)

Dimensions

5.5 x 0.6 x 8.5 inches
---