Parable of the Sower Paperback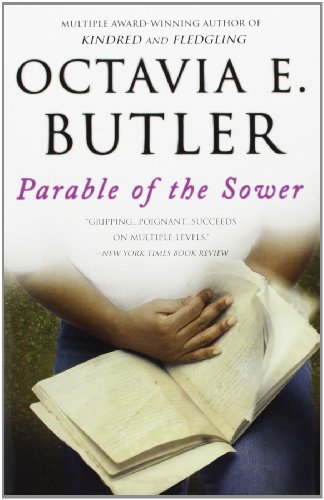 Octavia E. Butler, the grande dame of science fiction, writes extraordinary, inspirational stories of ordinary people. Parable of the Sower is a hopeful tale set in a dystopian future United States of walled cities, disease, fires, and madness. Lauren Olamina is an 18-year-old woman with hyperempathy syndrome--if she sees another in pain, she feels their pain as acutely as if it were real. When her relatively safe neighborhood enclave is inevitably destroyed, along with her family and dreams for the future, Lauren grabs a backpack full of supplies and begins a journey north. Along the way, she recruits fellow refugees to her embryonic faith, Earthseed, the prime tenet of which is that "God is change." This is a great book--simple and elegant, with enough message to make you think, but not so much that you feel preached to.
Loved by our collective!
This is the first book I read after the 2016 general election. I hadn't known who Octavia Butler was before then. I still remember exactly where I was standing when I read the first pages of Lauren Olamina's tenacious and uncompromising survival. So many people in my life had been protesting, marching, sitting in, shutting down, and organizing for a world free of oppression, and that project had just been dealt a huge blow. It felt like the start of an especially horrific turn, and Octavia Butler had seen it all coming in 1993. And through the life and words of Lauren Oalmania was telling us what we could do about it. Or, perhaps more accurately, what we might have to do about it, much like Lauren is forced to throughout the story. A bleak depiction of our future that feels alarmingly close to our present, it is only through Laurens creativity, innovation, and interpretation of god that we receive any relief from the bleak and violent world crumbling around her. I'm forever grateful to Octavia for warning of what might come and for offering this visionary resource in how we might adapt to survive.
---
Product Details
Paperback

352 pages

ISBN/SKU

9780446675505

Publisher

Grand Central Publishing (1/1/00)

Dimensions

5.3 x 1 x 8 inches

Tags
---