The Moth Keeper
(A Graphic Novel)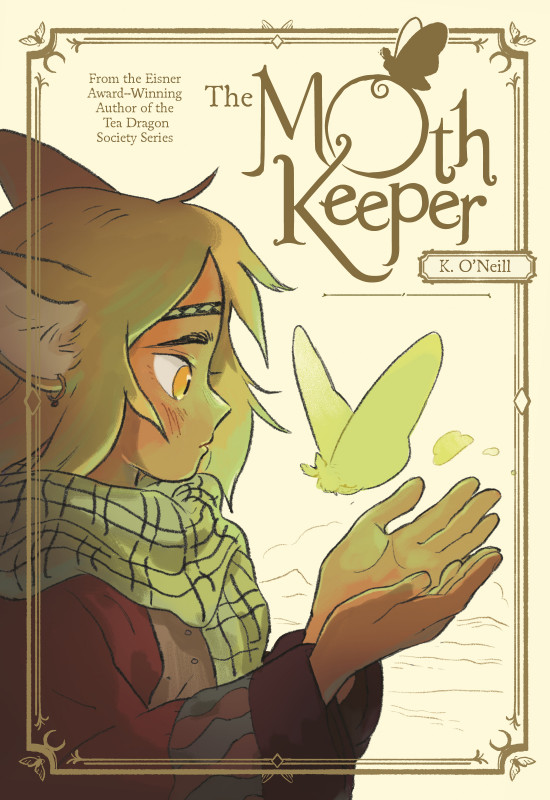 By K. O'Neill
Being a Moth Keeper is a huge responsibility and a great honor, but what happens when the new Moth Keeper decides to take a break from the moon and see the sun for the first time? A middle-grade fantasy graphic novel about passion, duty, and found family.
Anya is finally a Moth Keeper, the protector of the lunar moths that allow the Night-Lily flower to bloom once a year. Her village needs the flower to continue thriving and Anya is excited to prove her worth and show her thanks to her friends with her actions, but what happens when being a Moth Keeper isn't exactly what Anya thought it would be?

The nights are cold in the desert and the lunar moths live far from the village. Anya finds herself isolated and lonely. Despite Anya's dedication, she wonders what it would be like to live in the sun. Her thoughts turn into an obsession, and when Anya takes a chance to stay up during the day to feel the sun's warmth, her village and the lunar moths are left to deal with the consequences.

K. O'Neill brings to life a beautifully illustrated fantasy world about responsibility to yourself and your community. The Moth Keeper is filled with magic, hope, and friendship.
Loved by our collective!
As with O'Neill's other works, the setting of The Moth Keeper is richly imagined — from the snug, lamplit world of the night-village to the dazzling merriment of the day-village, and all the purple-pink skies dividing them. I felt comforted by O'Neill's vision of queer, communal living, where relationships are deeply rooted in care and support. I also appreciated that even in the dreamy absence of our familiar structures of harm, characters must still grapple with very real struggles such as loneliness and the search for belonging. A cozy read to set your imagination free!
---
Product Details
Paperback

272 pages

ISBN

9780593182260

Publisher

Random House Graphic (3/7/23)

Dimensions

5.6 x 0.8 x 8.1 inches

Tags

Tags

indie next, middle grade, utopia
---