Polymath
The Life and Professions of Dr Alex Comfort, Author of The Joy of Sex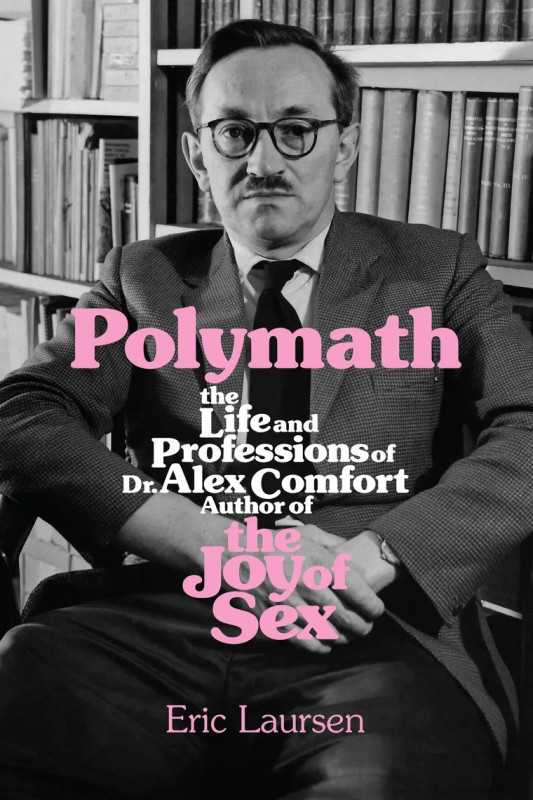 Categories
By Eric Laursen
We have so much more to learn about (the author of) The Joy of Sex!, this biography covers it all: the life of a young poet, pacifism, anarchist activism, academic life, the 60s counterculture, starting over in California, The Joy of Sex, aging and death.

Polymath is the first biography of one of the most remarkable and wide-ranging intellectuals of the second half of the 20th century. Alex Comfort was a British poet, novelist, biologist, cultural critic, activist, and anarchist, and the author of the international bestseller, The Joy of Sex. He played a vital role in making gerontology (the study of aging) a viable branch of modern science, energizing the direct-action movement for nuclear disarmament, revitalizing anarchism as a political philosophy in the post-World War II decades, and persuading 12 million readers of his most popular book to banish guilt and anxiety from sex in favor of pleasure and closer human understanding.
The Joy of Sex spent eleven weeks atop the NYT bestseller list--and seventy-two weeks in the top five. But the book took on a life of its own as a couple generations of youth and adults used The Joy of Sex as a tool to understand pleasure outside the realm of guilt and shame and opened the doors to a healthier sexual culture.
Comfort liked to say that everything he did was part of "one big project": to bring about a new consciousness, grounded in science, of the importance of personal responsibility in human relationships, including the obligation to disobey when authority was being exercised abusively. Polymath traces the intersection in Comfort's life and work between biology and literature, anarchism and humanism, sex and sociality, and how his writings, research, and activism continue to shed critical light on the moral and political choices we make today. Laursen's book relates the event-filled life of a brilliant and complex figure, including his victory over a possibly career-ending disability, his tumultuous second marriage, his struggles with the scientific establishment, and the fascinating story of the making of The Joy of Sex. It will be vital reading for anyone who wants to understand how the personal became political and the political became personal in the last 100 years.
---
Product Details
Paperback

648 pages

ISBN

9781849354967

Publisher

AK Press (8/29/23)

Dimensions

6 x 1.5 x 9 inches
---