Regenerative Life Design Playbook
Body. Mind. Soil.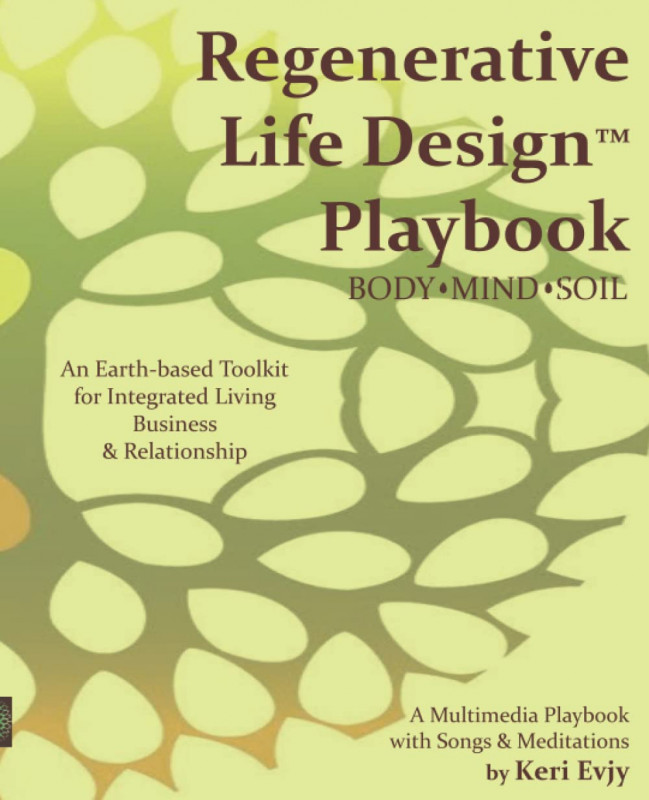 By Keri Evjy
The world needs you human and whole, now.

The Regenerative Life Design Playbook is an earth-based toolkit to help you design a life that brings you joy, healthy growth and the fulfillment of your greater purpose.
These are tumultuous times we live in. People feel disconnected, depleted and without a sense of purpose in their lives, because:
1. We live in a work-obsessed culture.
2. We see ourselves as separate from nature.
3. Our lives are more virtual than ever.

We can feel overwhelmed and over-saturated, becoming numb to the beauty of the world, and the countless opportunities to deeply connect and recharge with ourselves, the earth, and our loved ones. At this critical time in human evolution, tapping into life-giving, ecologically proven design tools is a "game-changer".
The Regenerative Life Design Playbook:
1. Identifies life's disconnect and depleting sources.
2. Informs and inspires life's leverage points for reconnection and regeneration.
3. Provides an eco-inspired framework to create a comprehensive design for healthy and reciprocal lives, businesses, and relationships.
4. Utilizes a multi-media format, with links to recordings of original songs and meditations for every chapter, allowing for a full embodiment of the material.
The Regenerative Life Design program addresses eight branches of life's expression: self, relationships, health and wellness, body, career, ecology, food and sustenance, and lifestyle. The Playbook includes eight living ecology lessons, one for each branch, and offers reflective exercises, somatic visualizations, natural strengths assessments, conceptual tools, best practices and over 15 songs and earth centered meditations for plotting a vibrant, eco-centered life-design.
---
Product Details
Paperback

120 pages

SKU

9798985814125

Publisher

Regenerative Life Design Publishing (6/3/22)

Tags

Tags

local
---