The Adventures of a Southern (Baptist) Buddhist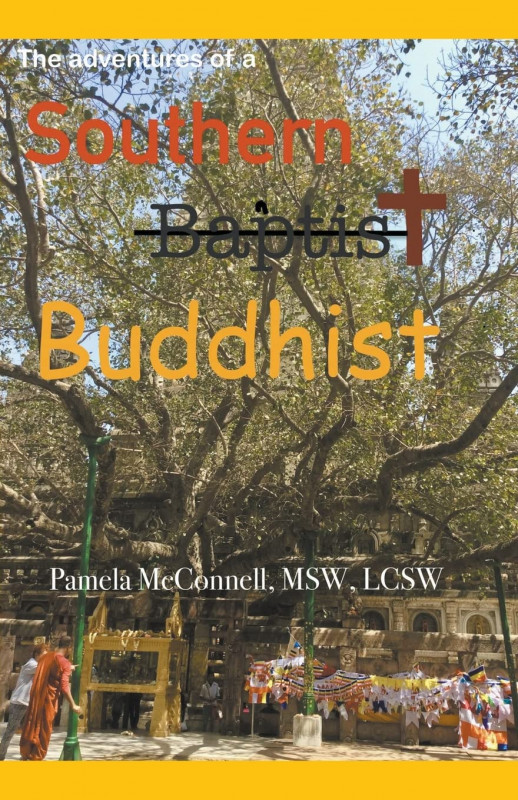 This true story is about a girl who is born up north; into a conservative, fundamentalist/evangelical family—but then becomes a Liberal Buddhist.
Her family moves back to their roots in the Appalachian south, where Pam is molested by her grandfather. She later owns her sexuality by becoming promiscuous; beginning a pattern of serial dating, marrying and divorcing.
She is first married at 18 to another 18 year old, who gives her a beautiful son--but he is a redneck and they have nothing else in common. Her second husband is a talented musician, but turns out to like sex with men. Her third husband speaks five languages and is a Pakistani, but he beats her up. Her fourth husband is a chef who makes delicious meals, but turns out to be a felon and a crackhead. Finally, the love of her life neglects to tell Pam for seven years that he is married.
In the meantime, Pam completes two degrees and works as a counselor, and then 20 years as a hospice social worker. She begins her hospice career in Southern California, where she has moved to get away from the DEEP South. That is where she converts to Buddhism. From that point, she begins to look inward for the answers to her questions about life's meaning.
Pam leaves the country after two failed relationships, some years apart. She spends a year teaching English in South Korea and goes from there to Pakistan with her third husband. In between, her dad dies and Pam reconnects and bonds with her mom, backpacking on the Appalachian Trail. When she leaves the love of her life, she goes on Pilgrimage to India and Nepal. The meaning of her life is coming into focus.
At the end of the book, Pam goes on a trek in the Himalayas, on the Annapurna Circuit. Just over the three-mile high pass is a magical Pure Land in Muktinath, with a Buddhist temple that is dedicated to the female Buddha Vajrayogini. With a new perspective, Pam has the realization that her Enlightenment is ensured; she WILL become a Buddha someday.
---
Product Details
Type

Paperback

SKU

9798201601713

Publisher

Self-published (9/23/22)

Tags

Tags

local
---