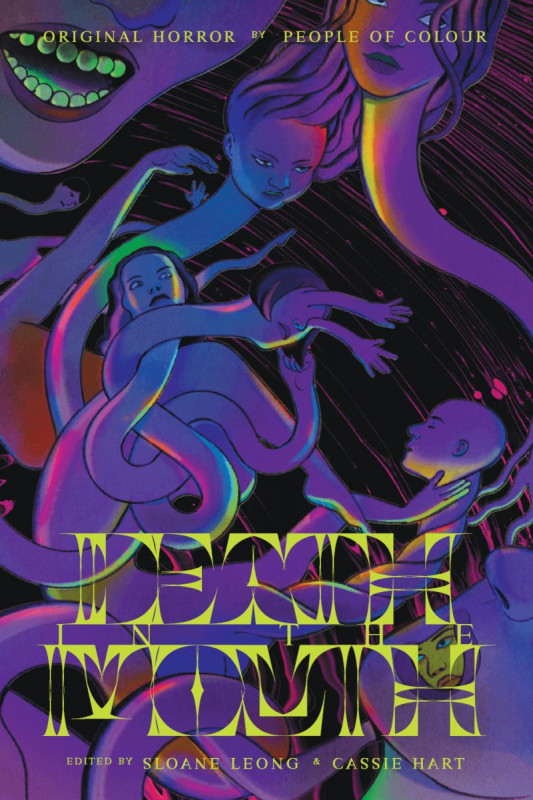 By Carrie Hart and Sloan Leong
I ka 'ōlelo ke ola, i ka 'ōlelo ka make.
"There is life in the mouth and death in the mouth."
What is horror to those living in the margins? Where terror is systematized and in the very air everyone happily breathes?
A misheard word.
The thud of boots.
An impossible color.
A foreign growth.
DEATH IN THE MOUTH is a horror anthology showcasing BIPOC and other ethnically marginalized writers and artists from around the world. It features 26 short stories accompanied by 26 original illustrations spanning across genre and time, from real and fictive worlds, all while exploring new and unique manifestations of horror.
TABLE OF CONTENTS
Jolie Toomajan - "Water Goes, Sand Remains", with art by Jabari Weathers
Yah Yah Scholfield - "They Will Take Up Serpents", with art by Makoto
ChiIsha Karki - "Welcome to Labyrinth", with art by Natalie Hall
Endria Richardson - "Wind Up Teeth", with art by Tsulala
Johnny Compton - "No Hungry Generations", with art by Pierre Roset
Arasibo Campeche - "Drowned in Mindfulness", with art by Michael Deforge
K-Ming Chang - "The Three Resurrections of my Grandfather", with art by Sloane Hong
Reno Evangelista - "Her Apocrypha", with art by Jess Hara
Catherine Yu - "Balloon Girl", with art by Joy San
Daphne Fama - "The Pleiades", with art by Alicia Feng
Beatrice Iker- "They'll Keep You Gestated", with art by Molly Mendoza
Cassie Hart - "She", with art by Weiwei Xu
C Pam Zang - "Alice or Rose or Aurora or Allerleuirah or Belle, on the Occasion of the Burial of the Beast", with art by Charlotte Gomez
P. H. Low - "Tongue is a Void", with art by JaeHoon Choi
Kelsea Yu - "The Obedient Son", with art by Audrey Murty
JL Akagi - "Henry Watanabe and the Wandering Hand", with art by Bhanu Pratap
Amaranta Sepulveda Durán - "The Mother-Wound", with art by Vivian Magaña
Sloane Leong - "Paradise", with art by Solomon Enos
Rivers Solomon - "Some of us are Grapefruit", with art by Junko Mizuno
Ras Cutlass - "Melinda and the Grub", with art by Naomi Butterfield
R.S.A. Garcia - "A Bonfire in the Night", with art by Zhang Hetian
Jessica Cho - "On Tattered Wings", with art by Lina Wu
M. L. Krishnan - "The Eggshell Sanctuary", with art by Julie Benbassat
Priya Chand - "Never Lie to Me" with art by Congming
Karin Lowachee - "The Black Hole of Beaumort", with art by Allissa Chan
Darcie Little Badger - "Homebody", with art by Apolo Cacho
---
Product Details
Type

Paperback

Publisher

Self-published (10/1/22)

Tags

Tags

horror
---