Kiki Can!
Bilingual Firsts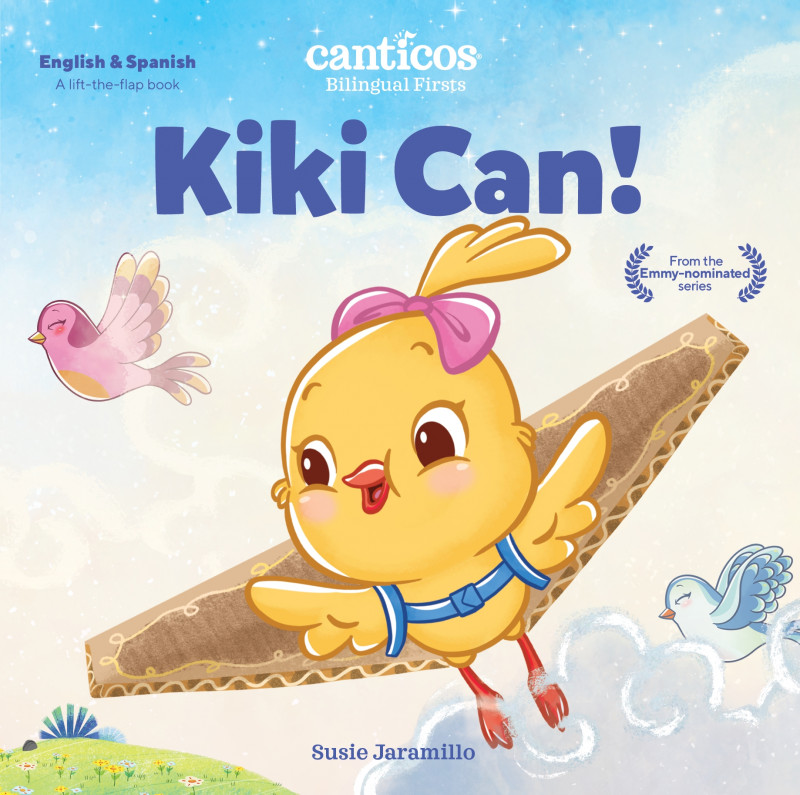 From the Emmy-nominated, award-winning bilingual preschool series Canticos, comes Kiki Can!, a part of the Canticos Bilingual Firsts collection.
Follow Kiki's journey to fly and get inspired by her "yes, I can" attitude! Learn about the power of words to instill grit and resilience in your little chickies, in both English and Spanish. Complete with beautiful illustrations, this book is a great way to make learning with your little chickie special and unique in not one, but two languages.
Concept: Grit, resilience, failure, success.
Format:
• 6" x 6" board book format perfect for little readers.
• English and Spanish on opposite pages.
• Interactive lift-the-flap.
• "This book belongs to" page to personalize with a child's name.
"Canticos resonates with parents who want to raise multilingual children through quality, appealing content." — NBC
"Good books not only teach your child about different cultures and their traditions, they are also a great way to help your child pick up new vocabulary and information about different regions around the world. Canticos...is a great place to start" — Motherly
"Susie Jaramillo created a media company with an educational, cross-cultural, and intergenerational mission." — School Library Journal
"¿Qué hacer cuando los niños no quieren dormir? La colección bilingüe Canticos de Susie Jaramillo reúne tiernas canciones de cuna de nuestra infancia." — People en Español
Children can also watch our bilingual videos on the Canticos channel!
Beloved by kids, parents and educators, Canticos is the #1 bilingual preschool brand.
---
Product Details
Board Book

20 pages

ISBN

9781945635618

Publisher

Encantos (4/11/22)

Dimensions

6 x 0.8 x 5.9 inches

Tags

Tags

bilingual, board book, canticos
---