All Systems Red (The Murderbot Diaries #1)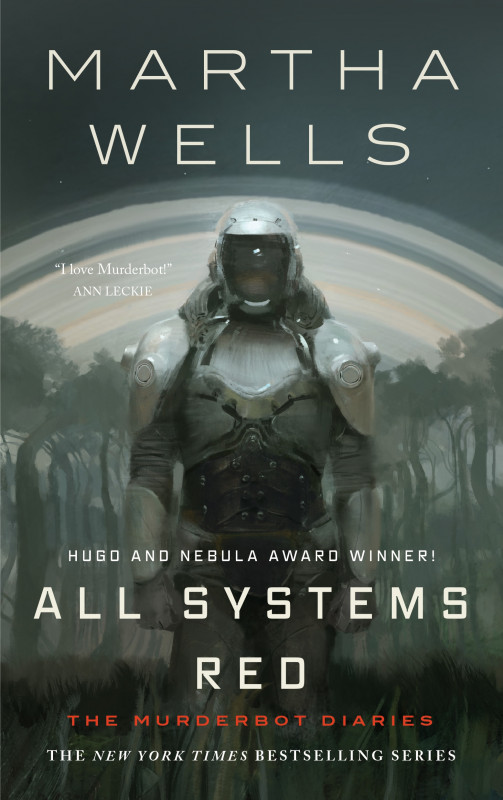 By Martha Wells
Now available in hardcover, All Systems Red is the first entry in Martha Wells' New York Times and USA Today bestselling science fiction series, The Murderbot Diaries.

Winner: 2018 Hugo Award
Winner: 2018 Nebula Award
Winner: 2018 Alex Award
Winner: 2018 Locus Award
"As a heartless killing machine, I was a complete failure."
In a corporate-dominated spacefaring future, planetary missions must be approved and supplied by the Company. Exploratory teams are accompanied by Company-supplied security androids, for their own safety.
But in a society where contracts are awarded to the lowest bidder, safety isn't a primary concern.
On a distant planet, a team of scientists are conducting surface tests, shadowed by their Company-supplied 'droid—a self-aware SecUnit that has hacked its own governor module, and refers to itself (though never out loud) as "Murderbot." Scornful of humans, all it really wants is to be left alone long enough to figure out who it is.
But when a neighboring mission goes dark, it's up to the scientists and their Murderbot to get to the truth.
The Murderbot Diaries
#1 All Systems Red
#2 Artificial Condition
#3 Rogue Protocol
#4 Exit Strategy
Loved by our collective!
Legally classified as property of "The Company," Murderbot has hacked its own governor module to pursue the freedom to ignore bad orders and binge every serial drama it can download. Armed with razor-sharp sarcasm – and literally gun arms – Murderbot is the reluctant nonbinary, asexual, it/its hero we didn't know we needed. It is grumpy, socially inept, and utterly heartwarming as it learns what it means to see itself as a person 🥹

This is the kind of book series that introduces you to a motley crew of characters who soon begin to feel like real-life friends. You will celebrate their wins, and mourn their losses. You will wish you too could traverse wormholes on a sentient spaceship with a serious attitude problem.

Content Warnings: action movie level violence, slavery and indentured servitude, a fuck ton of f-bombs!
---
Product Details
Hardcover

176 pages

ISBN

9781250214713

Publisher

Tordotcom (1/21/19)

Dimensions

5.3 x 0.9 x 8.3 inches

Tags
---