My Glorious Defeats
Hacktivist, Narcissist, Anonymous: A Memoir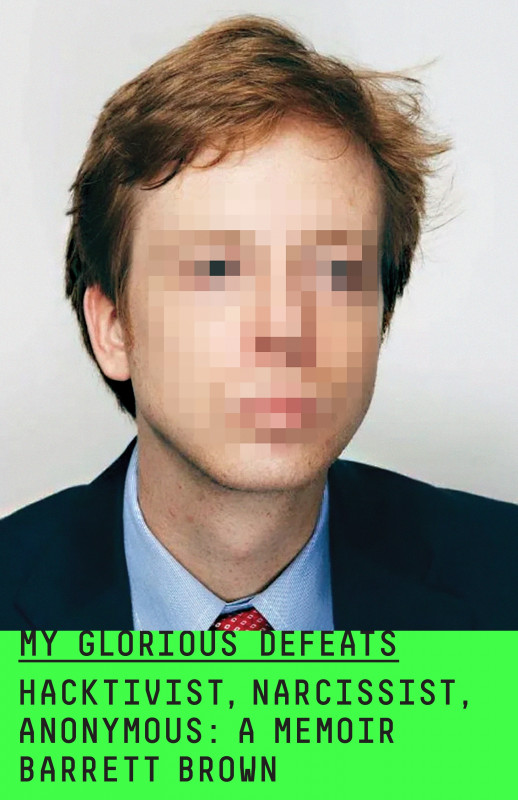 Categories
Barrett Brown went to prison for four years for leaking intelligence documents. He was released to Trump's America. My Glorious Defeats is his story.
After a series of escapades both online and off that brought him in and out of 4chan forums, the halls of power, heroin, and federal prison, Barrett Brown is a free man. Brown was arrested for his part in an attempt to catalog, interpret, and disseminate top-secret documents exposed in a security lapse by the intelligence contractor Stratfor in 2011. An influential journalist and active in the hacktivist collective Anonymous, Brown recounts exploits from a life shaped by an often self-destructive drive to speak truth to power. With inimitable wit and style, palpable anger and conviction, Brown exposes the incompetence and injustices that plague media and politics, reflects on the successes and failures of the transparency movement, and shows the way forward in harnessing digital communication tools for collective action.
But My Glorious Defeats is more than just the tale of the clever and hilarious Brown; it's also a rigorously researched dissection of our decaying institutions, and of human nature itself. As Brown makes clear, institutions are made of people—people with personal ambitions and personal vices—and it is people, just like him, just like us, who hold power. As optimistic as it is heartbreaking, My Glorious Defeats is an entertaining and illuminating manual for insurgency in the information age.
Bold and combative, irreverent and erudite, My Glorious Defeats is both memoir and manifesto—a roaring indictment of the increasingly powerful and increasingly dangerous cyber-industrial complex.
---
Product Details
Hardcover

432 pages

ISBN

9780374217013

Publisher

MCD (10/24/23)

Dimensions

5.4 x 0.6 x 8.3 inches
---