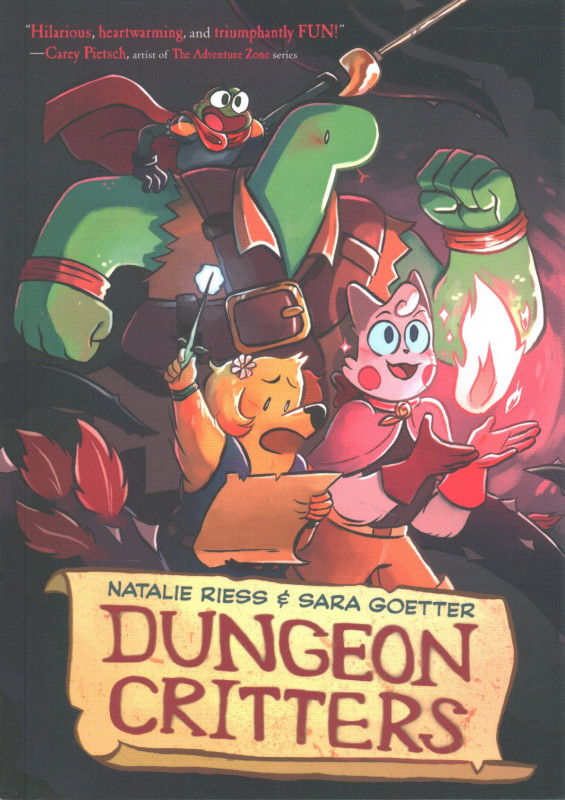 Natalie Riess and Sara Goetter's Dungeon Critters is a middle-grade graphic novel about a gang of adorable animal friends on a D&D style dungeon crawl.

Quests! Plots! Evil Plants! Magic and mayhem!
Join the Dungeon Critters—a tight-knit squad of animal companions—on a wild adventure investigating a sinister botanical conspiracy among the furry nobility. As they risk their lives traveling through haunted dungeons, swamps, and high society balls—they also come closer together as friends.
Motivated by rivalries, ideals, and a lust for adventure, these critters navigate not only perils and dangers of the natural world, but also perils and dangers...of the heart!
Loved by our collective!
A band of lovable weirdos are on a quest to save the kingdom! Slapstick illustrations meet plenty of heart in this exciting adventure that plays with overdone archetypes. The boisterous cat and the brainy dog are inseparable, and the buffest lizard you've ever seen has unbeatable conflict resolution skills. For an hour or two of delightful banter, sword-fights, and casual queerness look no further than Dungeon Critters!

Content Warnings: Some high stakes moments, non-fatal injuries
---
Product Details
Paperback

256 pages

ISBN

9781250195470

Publisher

First Second (9/28/20)

Dimensions

6.3 x 0.6 x 8.5 inches

Tags
---