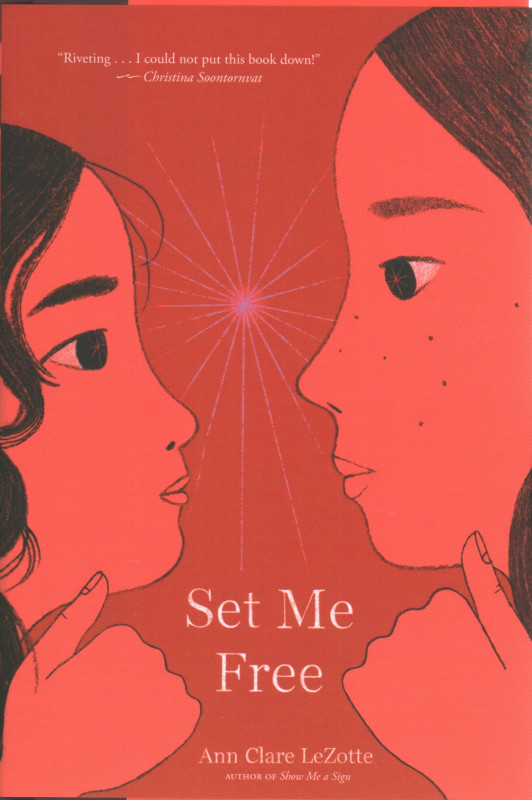 A riveting standalone companion to the Schneider Family Book Award winner, Show Me a Sign by Deaf author and librarian, Ann Clare LeZotte.
"Instantly captivating...will keep readers hooked until the very end...A simultaneously touching and gripping adventure." -- Kirkus Reviews
"Full of adventure and twists...a gripping tale of historical fiction." -- Booklist
"A riveting story of courage and compassion. I could not put this book down! By bringing the cruelties of our past out of the shadows, Ann Clare LeZotte shines a light for our way forward." -- Christina Soontornvat, author of the Newbery Honor book A Wish in the Dark
"Set Me Free kept me turning pages until the very end. Ann Clare LeZotte challenges us to examine our own often-skewed perspectives and reminds us that human dignity is innate and that kindness is a universal language." -- Ann E. Burg, author of the Claudia Lewis Award winner Flooded: Requiem for Johnstown
"Ann Clare LeZotte has given readers a beautiful gift. Set Me Free is a riveting story about a girl's struggle for deaf dignity and the hope for understanding." -- Aida Salazar, author of the Jane Adams Peace Award Honor book The Land of the Cranes
"Mary Lambert's strong spirit, observations, and concerns about all aspects of life, and love for people make her so inspiring!" -- Penny Gamble-Williams, activist and Spiritual Leader of the Chappaquiddick Tribe of the Wampanoag Nation
"Secrets, suspense, and surprises abound, but at the heart of Ann Clare LeZotte's brilliant novel are two girls who have much to say despite a world determined to silence them." -- Lisa Yee, author of Maizy Chen's Last Chance
Three years after being kidnapped as a "live specimen" in a cruel experiment to determine the cause of her deafness, Mary Lambert has grown weary of domestic life on Martha's Vineyard, and even of her once beloved writing.
So when an old acquaintance summons her to an isolated manor house outside Boston to teach a young deaf girl to communicate, Mary agrees. But can a child of eight with no prior language be taught? And is Mary up to the task? With newfound purpose, Mary arrives only to discover that there is much more to the girl's story--and the circumstances of her confinement--than she ever could have imagined. Suddenly, teaching her and freeing her from the prison of her isolation, takes on much greater meaning, and peril.
Riveting and complex, delicately nuanced and fervently feminist, Set Me Free is a masterful stand-alone companion to Show Me a Sign, and a searing exposé of ableism, racism, and colonialism that will challenge you to think differently about the dignity and capacity within every human being.
---
Product Details
Hardcover

288 pages

ISBN

9781338742497

Publisher

Scholastic Press (9/20/21)

Dimensions

5.8 x 0.9 x 8.5 inches

Tags
---