The Secret Explorers and the Tomb Robbers (The Secret Explorers #3)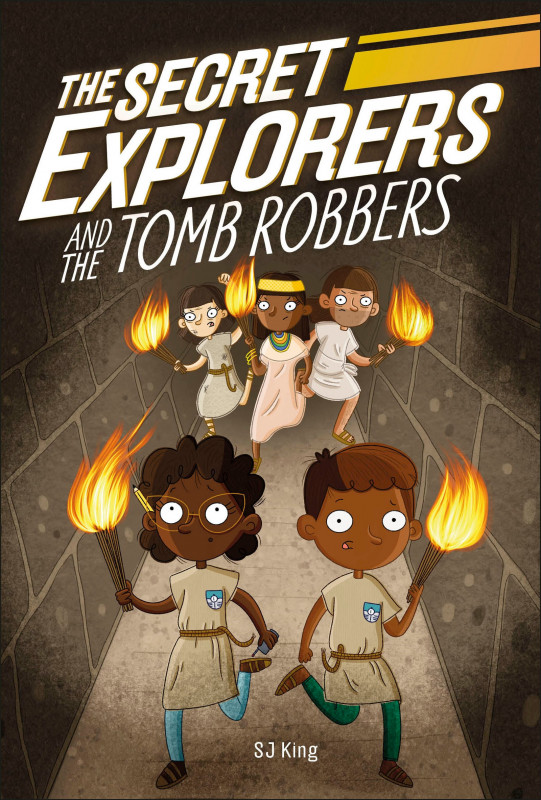 By SJ King
Join The Secret Explorers as they go up against pyramid thieves in the third installment of this action-packed, fact-filled chapter book series for kids ages 7-9.

Take your little archaeologist on an educational adventure to ancient Egypt in this action-packed third instalment of DK Books' new fiction series for children.

Meet the Secret Explorers - a band of brainiac kids from all around the world. Everyone in this diverse group of young experts has a speciality, from outer space to dinosaurs, and each story follows a character who gets chosen for a "secret exploration".

In this children's educational book, we follow history expert Gustavo on a thrilling journey to the west bank of the River Nile, also known as the land of the dead. Joined by engineering expert Kiki, they set out on a mission to stop the Cairo Museum from closing down.

Along the way, they find themselves in tense situations that will have kids on the edge of their seats! They break into pyramids, go up against tomb robbers and stop them from stealing all the ancient treasures in The Great Pyramid of Giza built for Pharaoh Khufu. Kids will love turning the pages to find out if the Secret Explorers manage to succeed in their mission!

Explore the World of Pyramids, Mummies, and Pharaohs

With a thrilling narrative that keeps kids engaged, The Secret Explorers and the Tomb Robbers book by SJ King is the perfect gift book for children who love history! It's written for kids aged 7-9 years and packed with lots of information on ancient Egyptian history and culture to give them a magical introduction to Ancient Egypt and the land of the dead.

At the end of the book, you'll find "Gustavo's Mission Notes" which is a summary of all the archaeology facts and discoveries made throughout the story. With fun illustrations, quizzes, and a vocabulary list in the back of the book, the educational value of this book is outstanding and great for a classroom read!

Get Ready to Join the Secret Explorers Club

The Secret Explorers series is a reminder to kids that they are limited only by their imagination and teaches them that learning is fun! But most of all, these educational books encourage children to believe that they can become experts in something they love.

This exhilarating historical fiction book for kids is packed with:

● Fun facts and illustrations about ancient Egyptian religion, the Pharaohs, hieroglyphics and museums
● Simple and engaging explanations on how pyramids were built and mummies were made

● Quizzes, mission notes, and a glossary of words with definitions

Also available as an audiobook, narrated by actor Alfred Enoch.
---
Product Details
Paperback

128 pages

ISBN

9780744021073

Publisher

DK Children (10/5/20)

Dimensions

5.3 x 0.4 x 7.9 inches

Tags
---