The Jasmine Throne (The Burning Kingdoms #1)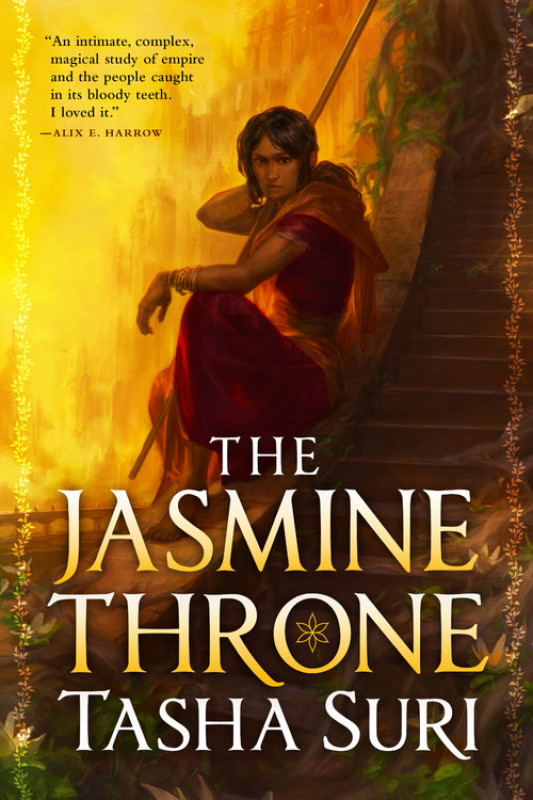 By Tasha Suri
​From award-winning author Tasha Suri comes the first in a stunning, sapphic epic fantasy trilogy, "a fiercely and unapologetically feminist tale of endurance and revolution set against a gorgeous, unique magical world" (S. A. Chakraborty).
A ruthless princess seeking to steal a throne. A powerful priestess seeking to save her family. Apart, they are dangerous. Together, they will set an empire ablaze.
Exiled by her despotic brother, Malini spends her days dreaming of vengeance, while trapped in the Hirana, an ancient cliffside temple that was once the revered source of the magical deathless waters but is now little more than a decaying ruin.
The secrets of the Hirana call to Priya. But in order to keep the truth of her past safely hidden, she works as a servant in the loathed regent's household, biting her tongue and cleaning Malini's chambers.
But when Malini witnesses Priya's true nature, their destines become irrevocably tangled....and the course of a kingdom is forever changed.
"Suri astounds with the spellbinding epic fantasy that launches her Burning Kingdoms trilogy....a fierce, heart-wrenching exploration of the value and danger of love in a world of politics and power....Suri's confident and passionate prose expertly guides the reader throughout. This is a blade-sharp, triumphant start to what promises to be an exciting series." --Publishers Weekly (starred review)
"An intimate, complex, magical study of empire and the people caught in its bloody teeth. It's about resistance and power, histories both personal and political, and the heroes who must become monsters to survive. I loved it." --Alix E. Harrow, Hugo award-winning author of The Once and Future Witches
"Like the magic in this tale of reclaiming power, The Jasmine Throne will work its way under your skin with Suri's compelling characters and gorgeous, effortless prose." --Sam Hawke, author of City of Lies
---
Product Details
Paperback

576 pages

ISBN

9780316538510

Publisher

Orbit (6/8/21)

Dimensions

6 x 0.5 x 9.3 inches

Tags
---