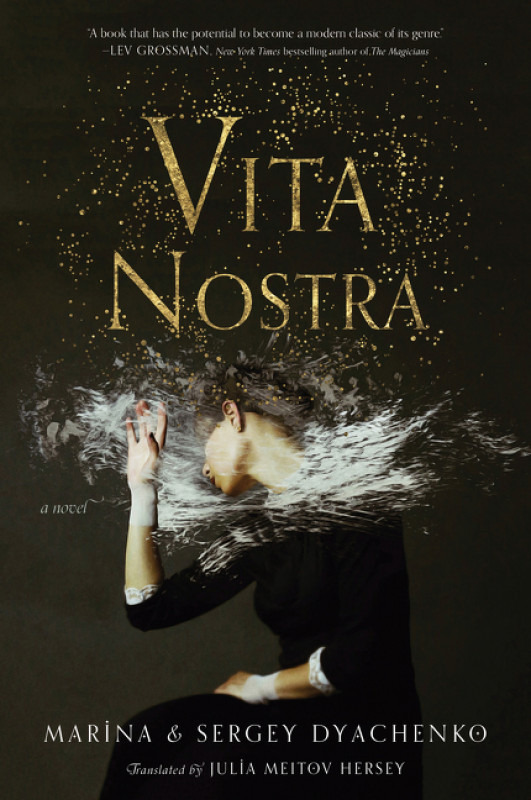 By Sergey and Marina Dyachenko
"Vita Nostra" -- a cross between Lev Grossman's "The Magicians" and Elizabeth Kostova's "The Historian" [...] is the anti-Harry Potter you didn't know you wanted." -- The Washington Post
"Vita Nostra has become a powerful influence on my own writing. It's a book that has the potential to become a modern classic of its genre, and I couldn't be more excited to see it get the global audience in English it so richly deserves." -- Lev Grossman
Best Books of November 2018 -- Paste Magazine
The definitive English language translation of the internationally acclaimed Russian novel--a brilliant dark fantasy combining psychological suspense, enchantment, and terror that makes us consider human existence in a fresh and provocative way.
Our life is brief . . .
Sasha Samokhina has been accepted to the Institute of Special Technologies.
Or, more precisely, she's been chosen.
Situated in a tiny village, she finds the students are bizarre, and the curriculum even more so. The books are impossible to read, the lessons obscure to the point of maddening, and the work refuses memorization. Using terror and coercion to keep the students in line, the school does not punish them for their transgressions and failures; instead, it is their families that pay a terrible price. Yet despite her fear, Sasha undergoes changes that defy the dictates of matter and time; experiences which are nothing she has ever dreamed of . . . and suddenly all she could ever want.
A complex blend of adventure, magic, science, and philosophy that probes the mysteries of existence, filtered through a distinct Russian sensibility, this astonishing work of speculative fiction--brilliantly translated by Julia Meitov Hersey--is reminiscent of modern classics such as Lev Grossman's The Magicians, Max Barry's Lexicon, and Katherine Arden's The Bear and the Nightingale, but will transport them to a place far beyond those fantastical worlds.
Loved by our collective!
I've seen this book summed up as "Harry Potter, if written by Leo Tolstoy" and y'all: so here for it. The Institute is no Hogwarts. On Sacco and Vanzetti Street, the mundanities of college life mix with flashes of deep undercurrents of magic—presented as a fascinating and miserable combination of metaphysics, mania, and delusion—in a way that borders on psychological horror. Fans of Russian literature, dark fantasy, and people who are really into that nagging feeling that there's a bunch of symbolism going right over their head (me, I'm talking about me) are all in for a treat.
---
Product Details
Paperback

416 pages

ISBN

9780063054158

Publisher

Harper Voyager (1/19/21)

Dimensions

5.3 x 0.9 x 8 inches

Tags

Tags

dark fantasy, indie next, russia
---