Social Justice Kittens 2021 Wall Calendar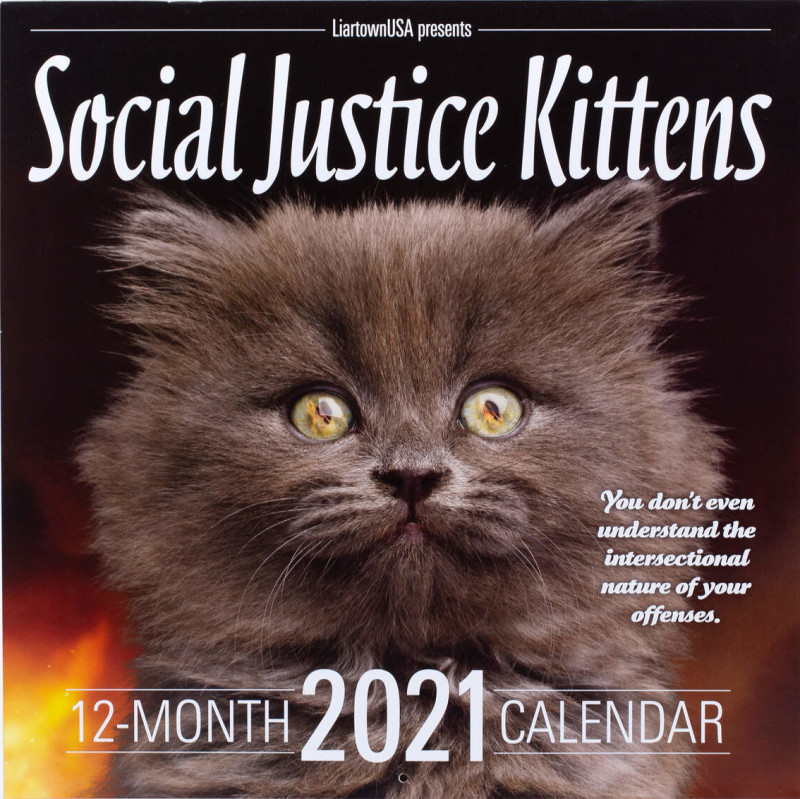 From Liartown USA
FACT: Fascism can only be defeated with unclouded moral certainty, control of the press, a unified, militant front, and the iron will to use violence in pursuit of justice!
It's 2021 and the Social Justice Kittens are back! Unburdened by the lessons of history, these rascal activists are equipped with new definitions for existing words, and ever-changing list of non-negotiable demands, and fresh, exciting ideas certain to transform the world!
After years of warning that every interaction is a terrifying, oppressive battle for literal survival, these fuzzy-wuzzy warriors know that changing course would only bring accusation of gullible social panic, cultish extremism, or self-serving fraud! Revolution can be painful, but a paradise of peace and equity awaits those courageous enough to ignore their doubts!
The Social Justice Puppies have also returned, but pay no attention! They've weaponized their fragility, recentering vital conversations around their own tired apologies. Steer clear of these floppy little failures, no matter how loudly they pray for oblivion!
THE LIARTOWN PROMISE: This elegant yearly chart includes ALL twelve months, each in perfect order, with every month containing the precisely correct number of days, ALSO in correct order.
---
Product Details
Type

Calendars & Planners

SKU

878223003463

Dimensions

12 x 12 x 0 inches

Tags

Tags

2021 calendar
---