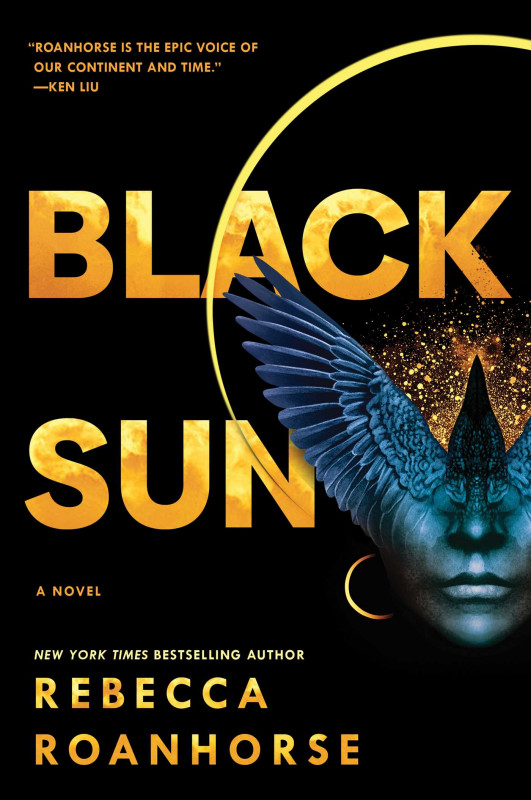 From the New York Times bestselling author of Star Wars: Resistance Reborn comes the first book in the Between Earth and Sky trilogy, inspired by the civilizations of the Pre-Columbian Americas and woven into a tale of celestial prophecies, political intrigue, and forbidden magic.
A god will return
When the earth and sky converge
Under the black sun
In the holy city of Tova, the winter solstice is usually a time for celebration and renewal, but this year it coincides with a solar eclipse, a rare celestial event proscribed by the Sun Priest as an unbalancing of the world.
Meanwhile, a ship launches from a distant city bound for Tova and set to arrive on the solstice. The captain of the ship, Xiala, is a disgraced Teek whose song can calm the waters around her as easily as it can warp a man's mind. Her ship carries one passenger. Described as harmless, the passenger, Serapio, is a young man, blind, scarred, and cloaked in destiny. As Xiala well knows, when a man is described as harmless, he usually ends up being a villain.
Crafted with unforgettable characters, Rebecca Roanhorse has created an epic adventure exploring the decadence of power amidst the weight of history and the struggle of individuals swimming against the confines of society and their broken pasts in the most original series debut of the decade.
Loved by our collective!
Roanhorse has developed a pre-Columbian setting with a unique mythos and political order that starts out reading like historical fiction and gradually introduces fantastical elements including mythical beasts, enchanted humans, and multiple magic systems. Queerness and nonbinary gender are casually woven into the storytelling, and I was particularly delighted by the depiction of a sapphic seafaring clan, the Teek, who injected a streak of misandrous humor. Strongly recommended for fans of The Broken Earth Trilogy and The Raven Tower!
---
Product Details
Hardcover

464 pages

ISBN

9781534437678

Publisher

Gallery / Saga Press (10/13/20)

Dimensions

6 x 0.5 x 9 inches

Tags

Tags

indie next
---