All We Can Save
Truth, Courage, and Solutions for the Climate Crisis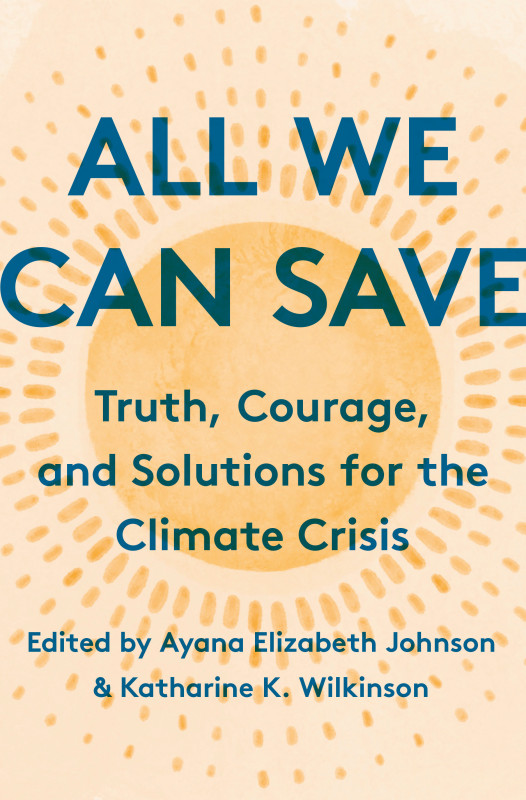 Categories
By Ayana Elizabeth Johnson and Katharine K. Wilkinson
Provocative and illuminating essays from women at the forefront of the climate movement who are harnessing truth, courage, and solutions to lead humanity forward.
There is a renaissance blooming in the climate movement: leadership that is more characteristically feminine and more faithfully feminist, rooted in compassion, connection, creativity, and collaboration. While it's clear that women and girls are vital voices and agents of change for this planet, they are too often missing from the proverbial table. More than a problem of bias, it's a dynamic that sets us up for failure. To change everything, we need everyone.
All We Can Save illuminates the expertise and insights of dozens of diverse women leading on climate in the United States--scientists, journalists, farmers, lawyers, teachers, activists, innovators, wonks, and designers, across generations, geographies, and race--and aims to advance a more representative, nuanced, and solution-oriented public conversation on the climate crisis. These women offer a spectrum of ideas and insights for how we can rapidly, radically reshape society.
Intermixing essays with poetry and art, this book is both a balm and a guide for knowing and holding what has been done to the world, while bolstering our resolve never to give up on one another or our collective future. We must summon truth, courage, and solutions to turn away from the brink and toward life-giving possibility. Curated by two climate leaders, the book is a collection and celebration of visionaries who are leading us on a path toward all we can save.

With essays and poems by:
Emily Atkin * Xiye Bastida * Ellen Bass * Colette Pichon Battle * Jainey K. Bavishi * Janine Benyus * adrienne maree brown * Régine Clément * Abigail Dillen * Camille T. Dungy * Rhiana Gunn-Wright * Joy Harjo * Katharine Hayhoe * Mary Annaïse Heglar * Jane Hirshfield * Mary Anne Hitt * Ailish Hopper * Tara Houska, Zhaabowekwe * Emily N. Johnston * Joan Naviyuk Kane * Naomi Klein * Kate Knuth * Ada Limón * Louise Maher-Johnson * Kate Marvel * Gina McCarthy * Anne Haven McDonnell * Sarah Miller * Sherri Mitchell, Weh'na Ha'mu Kwasset * Susanne C. Moser * Lynna Odel * Sharon Olds * Mary Oliver * Kate Orff * Jacqui Patterson * Leah Penniman * Catherine Pierce * Marge Piercy * Kendra Pierre-Louis * Varshini * Prakash * Janisse Ray * Christine E. Nieves Rodriguez * Favianna Rodriguez * Cameron Russell * Ash Sanders * Judith D. Schwartz * Patricia Smith * Emily Stengel * Sarah Stillman * Leah Cardamore Stokes * Amanda Sturgeon * Maggie Thomas * Heather McTeer Toney * Alexandria Villaseñor * Alice Walker * Amy Westervelt * Jane Zelikova
---
Product Details
Hardcover

448 pages

ISBN

9780593237069

Publisher

One World (9/22/20)

Dimensions

6.1 x 1 x 9.3 inches
---