Unplugged Play
Grade School: 216 Activities & Games for Ages 6-10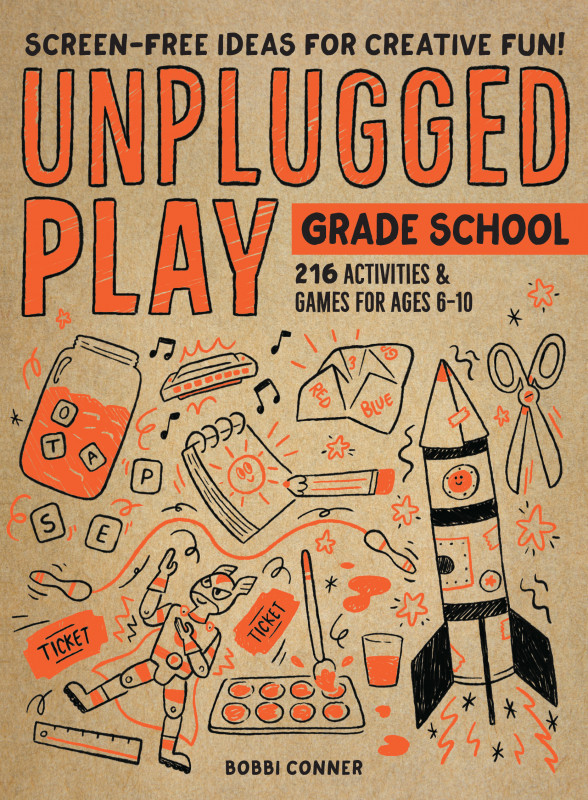 Categories
By Bobbi Conner
Note: Discount inventory sales are final. Discounted books may have shelf wear, markings, stickers, or other cosmetic imperfections.
Screen-free. Battery-free. Pure fun. When Unplugged Play was first published as a parent-friendly encyclopedia of games and activities for all ages, Richard Louv, author of Last Child in the Woods, called it "A terrific prescription for much of what ails children and parents today." Now Unplugged Playgets a fresh and appealing new life as three separate, brightly designed books, each targeted to a specific age group.
The need, of course, is significantly more pressing than when the book was originally published—screens are far more ubiquitous, causing parents even greater concern about their overuse—and these timeless, imaginative, easy-to-implement games are here to the rescue. Each volume includes games to play alone and games to play with siblings and friends and parents. Games to play indoors and games for outside. There are craft projects, music activities, guessing games—the kinds of truly fun activities designed to stretch the imagination, spark creativity, build strong bodies, forge friendships, and explore the real world. The opposite of hunkering down in front of an addictive screen.
---
Product Details
Paperback

272 pages

ISBN

9781523510207

Publisher

Workman Publishing (8/18/20)

Dimensions

5.5 x 0.5 x 7.5 inches
---