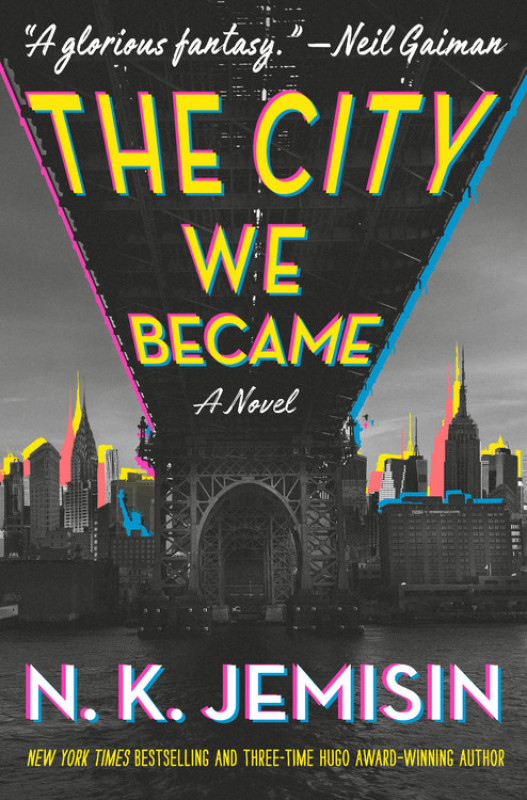 Five New Yorkers must come together in order to defend their city from an ancient evil in the first book of a stunning new novel by Hugo Award-winning and NYT bestselling author N. K. Jemisin.
Every great city has a soul. Some are as ancient as myths, and others are as new and destructive as children. New York City? She's got six.
But every city also has a dark side. A roiling, ancient evil stirs in the halls of power, threatening to destroy the city and her six newborn avatars unless they can come together and stop it once and for all.
For more from N. K. Jemisin, check out:
The Inheritance TrilogyThe Hundred Thousand KingdomsThe Broken KingdomsThe Kingdom of Gods
The Inheritance Trilogy (omnibus edition)Shades in Shadow: An Inheritance Triptych (e-only short fiction)The Awakened Kingdom (e-only novella)
Dreamblood DuologyThe Killing MoonThe Shadowed Sun
The Dreamblood Duology (omnibus)
The Broken EarthThe Fifth SeasonThe Obelisk GateThe Stone Sky
How Long 'til Black Future Month? (short story collection)
Loved by our collective!
I loved Jemisin's short story collection How Long 'til Black Futures Month, and was so excited to hear that she expanded the first story into a full book! The City We Became follows the avatars of five different NYC boroughs as they attempt to combat an evil force that uses police, real estate, and neo-nazi groups to wage war against the city. Chock-full of insider New York jokes and cheeky symbolism, it is a exciting adventure that does not bother to disguise its larger commentary. At its heart, The City We Became is both a love letter and a challenge to this vibrant, frustrating, magical city.

Content Warnings: abusive dad, attempted sexual assault, threat of police violence, villains are neo-nazis.
---
Product Details
Hardcover

448 pages

ISBN

9780316509848

Publisher

Orbit (3/24/20)

Dimensions

6.4 x 1.9 x 9.3 inches

Tags

Tags

indie next, new york
---