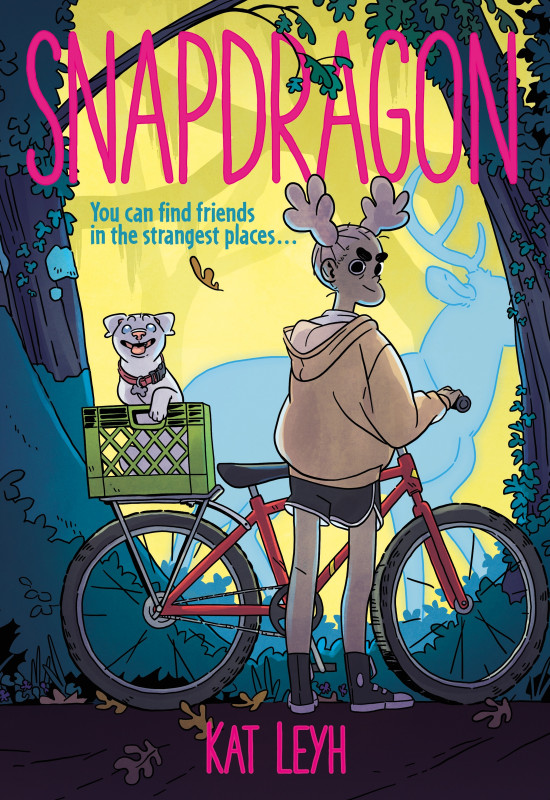 By Kat Leyh
Kat Leyh's Snapdragon is a magical realist graphic novel about a young girl who befriends her town's witch and discovers the strange magic within herself.
Snap's town had a witch.
At least, that's how the rumor goes. But in reality, Jacks is just a crocks-wearing, internet-savvy old lady who sells roadkill skeletons online—after doing a little ritual to put their spirits to rest. It's creepy, sure, but Snap thinks it's kind of cool, too.
They make a deal: Jacks will teach Snap how to take care of the baby opossums that Snap rescued, and Snap will help Jacks with her work. But as Snap starts to get to know Jacks, she realizes that Jacks may in fact have real magic—and a connection with Snap's family's past.
Loved by our collective!
Some books break your heart, and some carefully reassemble it in their home workshop, piece by piece. Bursting with love for all creatures, a little spooky, and with beautiful LGBTQ+ rep (Snap's BFF comes out as a trans girl over the course of the story, and the old witch in the woods is queer, duh), Snapdragon is a remarkably wholesome, multigenerational story with a sweet, sweet ending that had me crying in the best way.
---
Product Details
Paperback

240 pages

ISBN

9781250171115

Publisher

First Second (2/4/20)

Dimensions

5.6 x 0.7 x 8 inches

Tags
---