Psychopathy
A Very Short Introduction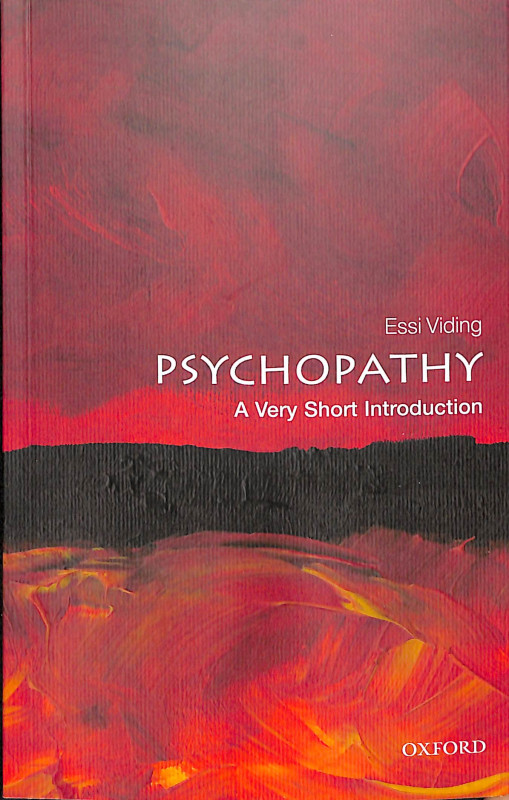 By Essi Viding
Psychopathy is a personality disorder that has long captured the public imagination. Newspaper column inches have been devoted to murderers with psychopathic features, and we also encounter psychopaths in films and books. Individuals with psychopathy are characterised in particular by lack of empathy and guilt, manipulation of other people and, in the case of criminal psychopathy, premeditated violent behaviour. They are dangerous and can incur immeasurable emotional, psychological, physical, and financial costs to their victims and their families.
Despite the public fascination with psychopathy, there is often a very limited understanding of the condition, and several myths about psychopathy abound. For example, people commonly assume that all psychopaths are sadistic serial killers or that all violent and antisocial individuals are psychopaths. Yet, research shows that most psychopaths are not serial killers, and, equally, there are plenty of antisocial and violent offenders who are not psychopaths. This Very Short Introduction gives an overview of how we can identify individuals with or at risk of developing psychopathy, and how they differ from other people who display antisocial behavior. Essi Viding also explores the latest genetic, neuroscience, and psychology evidence in order to illuminate why psychopaths behave and develop the way they do, and considers whether it is possible to prevent or even treat psychopathy.
ABOUT THE SERIES: The Very Short Introductions series from Oxford University Press contains hundreds of titles in almost every subject area. These pocket-sized books are the perfect way to get ahead in a new subject quickly. Our expert authors combine facts, analysis, perspective, new ideas, and enthusiasm to make interesting and challenging topics highly readable.

---
Product Details
Paperback

136 pages

ISBN

9780198802266

Publisher

Oxford University Press (1/1/20)

Dimensions

4.3 x 0.4 x 6.9 inches

Tags
---