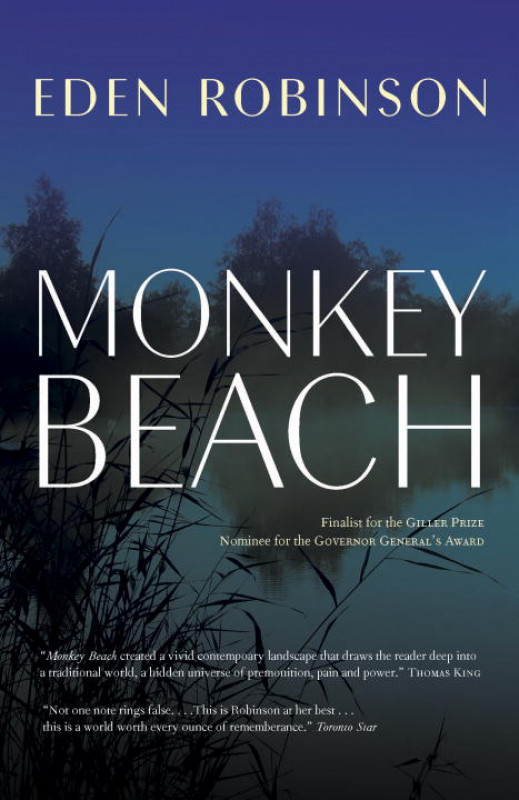 Monkey Beach combines both joy and tragedy in a harrowing yet restrained story of grief and survival, and of a family on the edge of heartbreak. In the first English-language novel to be published by a Haisla writer, Eden Robinson offers a rich celebration of life in the Native settlement of Kitamaat, on the coast of British Columbia.
The story grips the reader from the beginning. It is the morning after the narrator's brother has gone missing at sea; the mood is tense in the family house, as speculations remain unspoken. Jimmy is a prospective Olympic swimmer, seventeen years old and on the edge of proposing to his beautiful girlfriend Karaoke. As his elder sister, Lisa, faces possible disaster, she chain-smokes and drifts into thoughts of their lives so far. She recalls the time when she and Jimmy saw the sasquatch, or b'gwus – and this sighting introduces the novel's fascinating undercurrent of characters from the spirit world. These ghostly presences may strike the reader as mysterious or frightening, but they provide Lisa with guidance through a difficult coming of age.
In and out of the emergency room as a child, Lisa is a fighter. Her smart mouth and temper constantly threaten to land her in serious trouble. Those who have the most influence on her are her stubbornly traditional, machete-wielding grandmother, and her wild, passionate, political Uncle Mick, who teaches her to make moose calls. When they empty fishing nets together, she pretends she doesn't feel the jellyfish stinging her young hands – she's Uncle Mick's "little warrior."
We watch Lisa leave her teenage years behind as she waits for news of her younger brother. She reflects on the many rich episodes of their lives – so many of which take place around the water, reminding us of the news she fears, and revealing the menacing power of nature. But Lisa has a special recourse – a "gift" that enables her to see and hear spirits, and ask for their help.
Monkey Beach, Eden Robinson's first novel, was nominated for Canada's two largest literary prizes: the Giller Prize and the Governor General's Literary Award. The book was also published in Great Britain, the United States and Germany, and was a Canadian bestseller for many weeks. Monkey Beach is beautifully written, in prose that is simple and subtle, bold and vivid, and pervaded by humour.
Robinson fills her novel with details of Haisla culture and the rich wildlife surrounding Kitamaat. She uses traditional elements of storytelling – such as dreams, and people's ties to nature – but also demystifies Native beliefs, simultaneously peeling away and intensifying the mystery surrounding spirits. Ancient rituals are shown as part of the reality of a modern Native community, along with Kraft Dinner and TV soaps and the legacy of residential schools. Robinson's previous book of stories, Traplines, was remarked upon for being brutally honest, featuring rapists and drunks and drug dealers, psychopaths and sadists – proving to The New York Times that "Canadians are as weird and violent as anyone else." Monkey Beach is just as honest, but only hints at the darker elements. In the words of the author, "None of the characters are bad. They're just reacting like anyone else to situations of loss and death."
---
Product Details
Paperback

377 pages

ISBN

9780676973228

Publisher

Vintage Canada (1/9/01)

Dimensions

5.2 x 0.9 x 8.3 inches

Tags
---