The 57 Bus
A True Story of Two Teenagers and the Crime That Changed Their Lives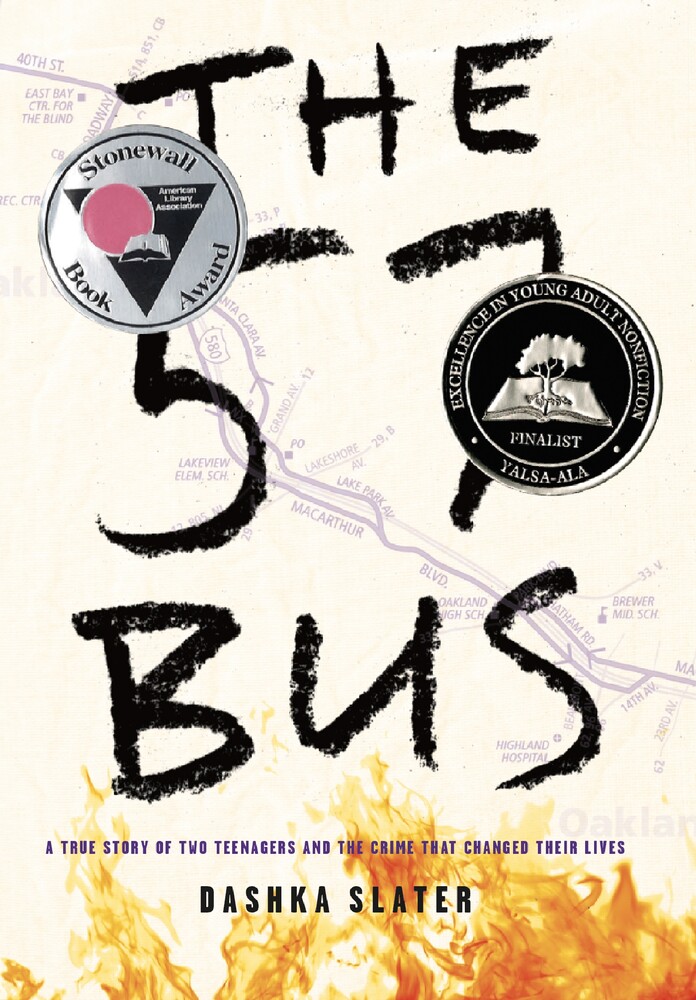 Stonewall Book Award Winner—Mike Morgan & Larry Romans Children's & Young Adult Literature Award
YALSA Award for Excellence in Nonfiction for Young Adults Finalist
One teenager in a skirt.
One teenager with a lighter.
One moment that changes both of their lives forever.
If it weren't for the 57 bus, Sasha and Richard never would have met. Both were high school students from Oakland, California, one of the most diverse cities in the country, but they inhabited different worlds. Sasha, a white teen, lived in the middle-class foothills and attended a small private school. Richard, a black teen, lived in the crime-plagued flatlands and attended a large public one. Each day, their paths overlapped for a mere eight minutes. But one afternoon on the bus ride home from school, a single reckless act left Sasha severely burned, and Richard charged with two hate crimes and facing life imprisonment. The case garnered international attention, thrusting both teenagers into the spotlight.
Loved by our collective!
"Binary
There are two kinds of people in the world.
Male and Female.
Gay and Straight.
Black and White.
Normal and Weird.
Cis and Trans.
There are two kinds of people in the world.
Saints and Sinners.
Victims and Villains.
Cruel and Kind.
Guilty and Innocent.
There are two kinds of people in the world.
Just two.
Just two.
Only two."


Richard set someone on fire. Even worse, he may have done so because that person is gender-queer, which would legally make it a hate crime. However, this gut-wrenching event and its aftermath, which unfolded to national interested in Oakland in 2013, may not be as clear cut as it may at first appear. Slater guides us through the story with nuance and compassion, challenging our understandings of what it means to be arrested for a violent crime in a juvenile criminal justice system which disproportionately engages with black and brown youth. What would justice look like for Sasha, the sweet and quirky white teen who spent painful weeks in a hospital burn unit. What could justice look like for Richard, the sweet and quirky black teen whose impulsive decision forever shaped the lives of both families involved?

Read for: An engaging and accessible intro to non-binary genders, they/them pronouns, and critiques of the criminal justice system. This book would make an excellent gift for liberal parents who unsure of how to engage in these conversations!

CW: Someone is set on fire and while not incredibly graphic, it is difficult to read.
---
Product Details
Hardcover

305 pages

ISBN

9780374303235

Publisher

Farrar, Straus and Giroux (10/17/17)

Dimensions

5.9 x 1.1 x 8.7 inches

Tags
---