Map
Collected and Last Poems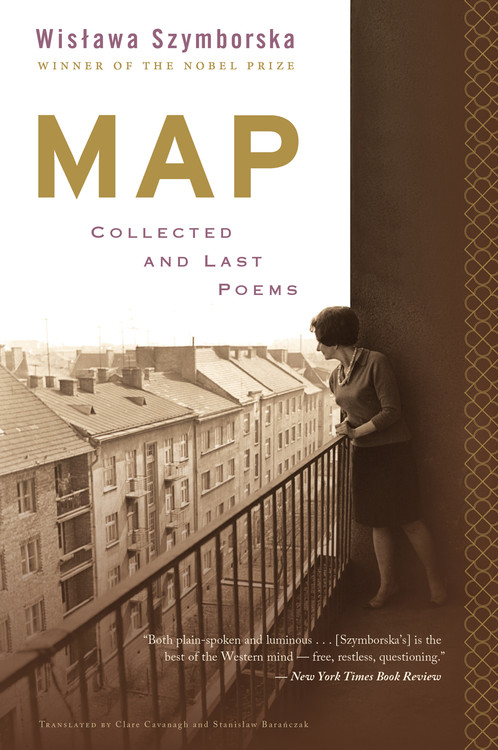 Categories
"Both plain-spoken and luminous . . . [Szymborska's] is the best of the Western mind--free, restless, questioning." -- New York Times Book Review
A New York Times Editors' Choice
"Vast, intimate, and charged with the warmth of a life fully imagined to the end. There's no better place for those unfamiliar with her work to begin."
-- Vogue
One of Europe's greatest poets is also its wisest, wittiest, and most accessible. Nobel Prize winner Wislawa Szymborska draws us in with her unexpected, unassuming humor. "If you want the world in a nutshell," a Polish critic remarked, "try Szymborska." But the world held in these lapidary poems is larger than the one we thought we knew.
​Edited by her longtime, award-winning translator, Clare Cavanagh, Map traces Szymborska's work until her death in 2012. Of the approximately two hundred fifty poems included here, nearly forty are newly translated; thirteen represent the entirety of the poet's last Polish collection, Enough, never before published in English. Map offers Szymborska's devoted readers a welcome return to her "ironic elegance" (TheNew Yorker).
"Her poems offer a restorative wit as playful as it is steely and as humble as it is wise . . . Her wry acceptance of life's folly remain[s] her strongest weapon against tyranny and bad taste."
-- Los Angeles Times Book Review
Loved by our collective!
An amazingly comprehensive collection of poems by Wisława Szymborska and translated by Clare Cavanagh and Stanisław Barańczak. This book contains poetry collections from Wisława's youth in 1944, to a collection published in 2011, shortly before her death. I addmitedly do not read much poetry, but I picked this up on a whim and loved every page. Her words are curious, thoughtful, playful, meloncholy, and questioning. The experience of seeing her work mature and age over time was an unforgettably moving experience. Great to pick up and read if you are feeling curious about the world and human perception in a way that doesn't require answers, but rather enjoys the questions and strangeness of it all.
---
Product Details
Paperback

464 pages

ISBN/SKU

9780544705159

Publisher

Mariner Books (4/12/16)

Dimensions

5.3 x 1.2 x 8.3 inches
---