The Amber Spyglass (His Dark Materials #3)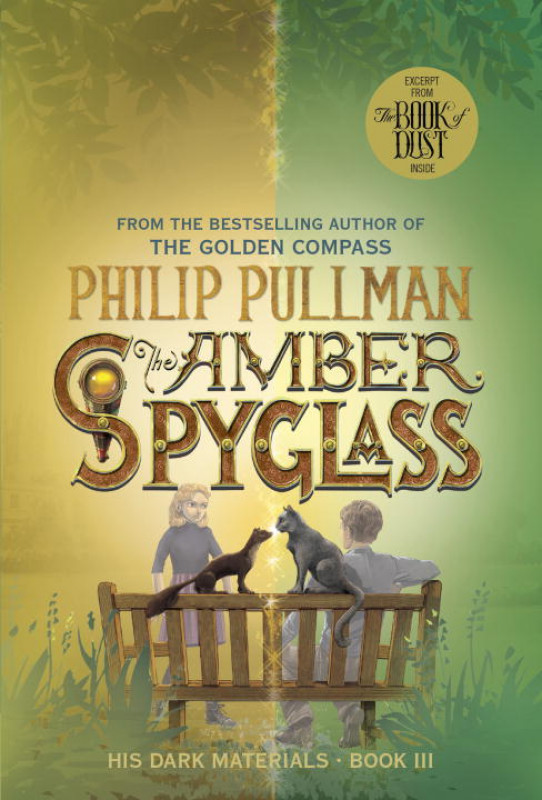 Categories
***** Includes a preview of THE BOOK OF DUST, the long-awaited new novel from Philip Pullman set in the world of His Dark Materials, and hailed by the New York Times as "a stunning achievement."*****

The unforgettable His Dark Materials trilogy that began with The Golden Compass--the modern fantasy classic that Entertainment Weekly named an "All-Time Greatest Novel" and Newsweek hailed as a "Top 100 Book of All Time"--and continued with The Subtle Knife, reaches its astonishing conclusion in The Amber Spyglass.
Throughout the worlds, the forces of both heaven and hell are mustering to take part in Lord Asriel's audacious rebellion. Each player in this epic drama has a role to play--and a sacrifice to make. Witches, angels, spies, assassins, tempters, and pretenders, no one will remain unscathed.
Lyra and Will have the most dangerous task of all. They must journey to a gray-lit world where no living soul has ever gone and from which there is no escape.
As war rages and Dust drains from the sky, the fate of the living--and the dead--comes to depend on Lyra and Will. On the choices they make in love, and for love, forevermore.
A #1 New York Times Bestseller
Winner of the Whitbread Award
Winner of the British Book Award (Children's)
Published in 40 Countries

"Masterful.... This title confirms Pullman's inclusion in the company of C.S. Lewis and Tolkien." --Smithsonian Magazine
"Pullman has created the last great fantasy masterpiece of the twentieth century. An astounding achievement." --The Cincinnati Enquirer

"War, politics, magic, science, individual lives and cosmic destinies are all here . . . shaped and assembled into a narrative of tremendous pace by a man with a generous, precise intelligence. I am completely enchanted." --The New York Times Book Review

"Breathtaking adventure . . . a terrific story, eloquently told." --The Boston Globe
---
Product Details
Paperback

518 pages

ISBN

9780440418566

Publisher

Yearling (5/27/03)

Dimensions

5 x 1.3 x 7.9 inches
---