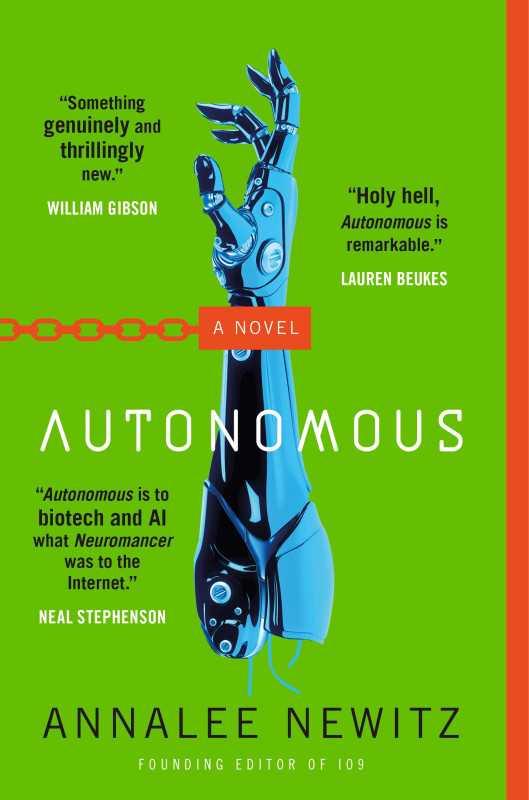 Autonomous is the highly anticipated debut from science journalist and founder of the science and sci-fi blog io9 Annalee Newitz, a novel that explores humanity's technology and culture in a future where everything--and everyone--is a product.
Earth, 2144. Jack is an anti-patent scientist turned drug pirate, traversing the world in a submarine as a pharmaceutical Robin Hood, fabricating cheap scrips for poor people who can't otherwise afford them. But her latest drug hack has left a trail of lethal overdoses as people become addicted to their work, doing repetitive tasks until they become unsafe or insane.
Hot on her trail, an unlikely pair: Eliasz, a brooding military agent, and his robotic partner, Paladin. As they race to stop information about the sinister origins of Jack's drug from getting out, they begin to form an uncommonly close bond that neither of them fully understand.
And underlying it all is one fundamental question: Is freedom possible in a culture where everything, even people, can be owned?
"Autonomous is to biotech and AI what Neuromancer was to the Internet."—Neal Stephenson
"Something genuinely and thrillingly new in the naturalistic, subjective, paradoxically humanistic but non-anthropomorphic depiction of bot-POV—and all in the service of vivid, solid storytelling."—William Gibson
Loved by our collective!
This deeply unsettling work of science fiction, just released in paperback, takes place in a dystopian future of corporate power, intellectual property, and contractual slavery that is probably not all that far away. The story features multiple protagonists -- an anti-patent activist turned pharma pirate, a homophobic bounty hunter tormented by sexual repression, a (maybe?) transgender robot who doesn't know where software ends and self begins -- each relatable but profoundly flawed. This is a novel that will almost certainly have a lasting impact on the genre.
---
Product Details
Paperback

304 pages

ISBN

9780765392084

Publisher

Tom Doherty Associates (9/4/18)

Dimensions

5.5 x 0.8 x 8.2 inches

Tags
---