Kurt Cobain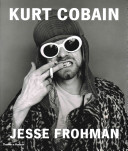 No Longer Available
This item may be out-of-print. For more information, please contact us.
Categories
In August 1993, when Nirvana was in New York to perform at the legendary Roseland Ballroom, Jesse Frohman photographed them for the London Observer's Sunday magazine--the last formal photo shoot in which Cobain participated before he committed suicide on April 5th, 1994.
Over the course of ninety photographs, Cobain seems an almost feral creature, by turns gentle, playful, defiant, suffering, or absorbed in his music. There's a diverse range of shots of Cobain with fellow band members Krist Novoselic and Dave Grohl and on his own, posing, performing, and greeting fans. Jon Savage's original interview, which appeared with Frohman's photographs in the Observer is also reproduced, giving us Cobain in his own words. The book is a touching tribute to Cobain twenty years after his tragic demise, and following Nirvana's recent induction in to the Rock and Roll Hall of Fame.
---
Product Details
Hardcover

142 pages

ISBN/SKU

9780500517642

Publisher

W W Norton & Co Inc (11/11/14)

Dimensions

10.9 x 0.9 x 12.8 inches
---