Daily Writing Resilience
365 Meditations & Inspirations for Writers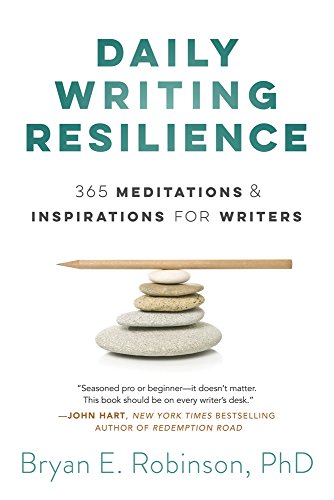 Chances are, whether you're a seasoned author or an aspiring scribe, you've grappled with your share of rejection, setbacks, and heartbreak. However, literary agents say the number one key to writing success is perseverance in the face of disappointment.
Daily Writing Resilience provides advice, inspiration, and techniques to help you turn roadblocks into steppingstones. You'll find tips and support through exercises such as meditation, breath work, yoga, stress management, gratitude, de-cluttering, sleep, exercise, mindful eating, and more. These 365 meditations will help you navigate the ups-and-downs of your writing practice, creating positive habits that will guide you toward the success and fulfillment that you've been seeking.
Praise:
"Every person with that little voice in their head―the one that tells them to write everyday―must own this book. Every page is full of hope and reality, just what we all need to keep us going."―Steve Berry, New York Times and # 1 Internationally bestselling author of The Patriot Threat
"For every type of writer―new, old, fresh, tired, impassioned, cynical, hopeful . . . this gem is flat out inspiring"―M.J. Rose, New York Times bestselling author of The Secret Language of Stones
"Bryan Robinson's Daily Writing Resilience is not only wise but also marvelously practical. The daily mantras he offers, taken from the experiences of those who've kept to the path, will provide much needed encouragement along the way. Take this book to heart, and then take it with you wherever you go."―William Kent Krueger, New York Times bestselling author of the multi-award winning Ordinary Grace and the Cork O'Connor series.
"I urge both fledgling and experienced writers to get their hands on Daily Writing Resilience and keep it nearby for handy reference. Bryan Robinson knows his way around the head and heart of the working writer, and this book is a wonderful companion and a balm to the writer's soul."―John Lescroart, New York Times bestselling author
"You don't have to be a writer to treasure Daily Writing Resilience, a unique and uplifting meditation book. It's chock full of insights so profound you'll be tempted to gobble it up in one bite instead of savoring each daily portion as intended, slowly and appreciatively. For writers, it's a must-have!"―Cassandra King, author of The Sunday Wife and Moonrise
"This must-have collection of inspirational nuggets will nudge you free of writer's block, garden variety or worse. Even if you're not blocked, a morning commune with some of writing's great minds will put you in the right creative space."―Sara Gruen, bestselling author of At the Water's Edge and Water for Elephants
"I loved this book. Every page offered reasons to hope or reflect, to try harder or feel connected to writing's grand traditions. Seasoned pro or beginner―it doesn't matter. This book should be on every writer's desk."―John Hart, New York Times bestselling author and back-to-back Edgar Award winner
"If you expect to speed-read these pages as the reading addict you are, reaching the end won't be your reward. This book is the Fountain of "Youcandoit" that will sustain you as a writer day after day (recyclable for new insight year after year)―for as long as you reward yourself each day with one premeasured cupful of wisdom."―Chris Roerden, author of Agatha Award-winner Don't Murder Your Mystery
"Bryan Robinson's daily compendium is like a gift you can open again and again. Full of wisdom, insight, and advice from acclaimed authors on the front-lines of publishing, this book will allow writers to soldier on in the face of the inevitable setbacks, delays, and frustrations of this writing life."―Jenny Milchman, Mary Higgins Clark and Silver Falchion award winning author of Cover of Snow, Ruin Falls, and As Night Falls
"The author's voice makes this book of meditations a true stand-out. Robinson offers a wellspring of wisdom shared with refreshing candor through daily doses of inspiration. A must-read for any author, whether at the start of the writing journey or well along the path of publication."―Wendy Tyson, author of the Greenhouse Mystery Series and the Allison Campbell Mystery Series
"In this thoughtful and inspirational treasure, Bryan Robinson connects writers of all levels and provides exactly what every author needs: intellectual fuel and emotional sustenance. Don't start your writing day without it!"―Hank Phillippi Ryan, Agatha, Anthony, and Mary Higgins Clark award-winning author
"At last! A real tool for real writers, a reference book that should be on every writer's desk next to their Thesaurus and Strunk & White Elements of Style. A practical guide that can be used as a daily devotional or motivational tool to hold your hand, to guide you, to encourage you, and to pull you back from the ledge. I can't wait to get my finished copy to put front and center on my desk."―Karen White, New York Times bestselling author of Flight Patterns.
---
Product Details
Paperback

432 pages

ISBN/SKU

9780738753430

Publisher

Llewellyn Publications (1/7/18)

Tags

Tags

local
---