Defiance
Resistance Book 2
By Carla Jablonski and Leland Purvis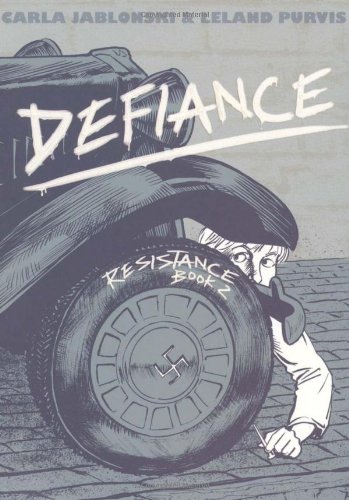 Categories
When Nazis invade, what can kids do to fight them?
World War II has taken its toll on the French countryside. German soldiers patrol the towns, searching for any challenge to their rule. The Tessier siblings, Paul, Marie, and Sophie, keep their noses clean and their faces blank as the French military police tighten their grip on their small country town. But all three are secretly doing their part for the Resistance: the men and women working hard to undermine the Germans and win back France's freedom . . . even if it ends up costing them their lives.
Written by Carla Jablonski and illustrated by Leland Purvis, Defiance is the second volume in a trilogy about children fighting on a secret front of World War II.
"Purvis's bright, clear drawings illustrate a fairly basic story. The history lesson is made dynamic and interesting for young readers throughout." - Publishers Weekly
---
Product Details
Paperback

128 pages

ISBN/SKU

9781596432925

Publisher

First Second (7/19/11)

Dimensions

6.2 x 0.3 x 8.3 inches
---