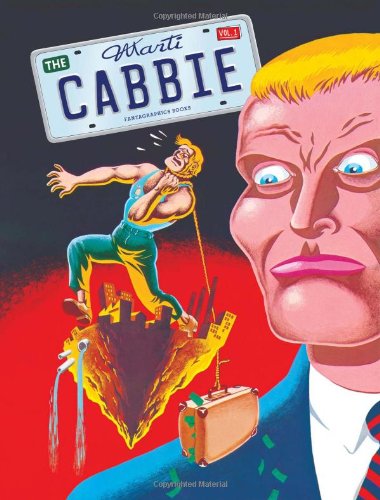 Categories
By Martí and Art Spiegelman
Take Chester Gould's Dick Tracy, add steroids, teleport it to Spain… and you have The Cabbie!
Sergio Leone's retooling of classic westerns for his "spaghetti westerns"… Stieg Larsson's striking take on the serial killer/mystery thriller in The Girl With the Dragon Tattoo… And for that matter ABBA's fiendishly catchy appropriation of American pop music. Sometimes it takes Europeans to make gold of tuckered-out American tropes.
Add to those instances of inspired global cross-pollination the Spanish cartoonist Martí's eye-popping The Cabbie, which spins off Martin Scorsese's sordid urban-justice drama Taxi Driver with a graphic style that unapologetically appropriates and even refines the brutal slabs of black, squashed perspectives, and grotesque approach to human physiognomy (and its ability to withstand punishment) that define Chester Gould's Dick Tracy.
And as Art Spiegelman (who was the first to publish Martí's work in English, in RAW magazine) notes in his introduction, while "Gould's graphic black and white precision and his diagrammatic clarity live on in Martí's work," he points out that "more interestingly, perhaps, so does Gould's depravity." Indeed, if anything, The Cabbie is even more savage than the legendarily brutal Dick Tracy, with its pimps, whores, petty thieves, corrupt businessmen, all swirling around the ingenuously violent "Cabbie" whose self-administered "upstanding citizen" status entitles him ― in his view ― to even more shocking acts of violence ― especially on his quest for the stolen coffin of his father, which he's told includes his entire inheritance! 64 pages of black-and-white comics
---
Product Details
Hardcover

64 pages

ISBN

9781606994504

Publisher

Fantagraphics (10/10/11)

Dimensions

9.1 x 0.6 x 11.8 inches
---