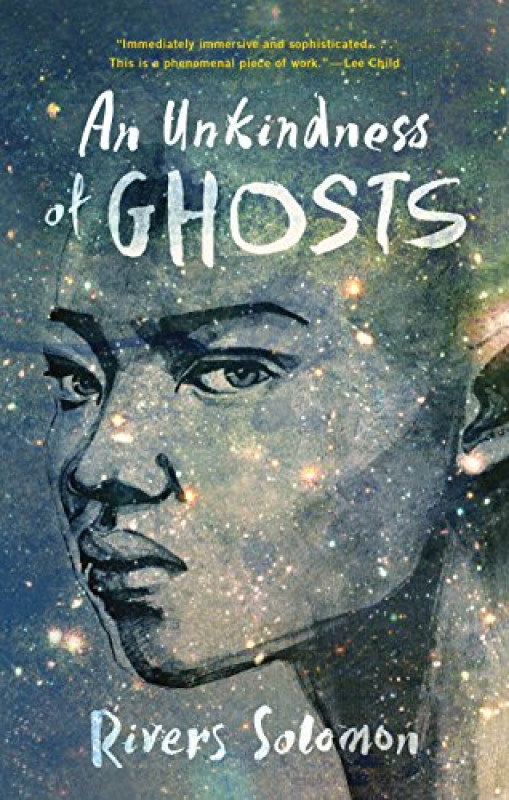 "Harrowing and beautiful, this is SF at its best: showing the possible future but warning of the danger of bringing old prejudices and cruelties to that new world. While a story about enslaved people in space could be a one-note polemic, the fully rounded characters bring nuance and genuine pathos to this amazing debut."
--Library Journal, Starred Review
"Solomon debuts with a raw distillation of slavery, feudalism, prison, and religion that kicks like rotgut moonshine...Stunning."
--Publishers Weekly, Starred Review
"Infused with the spirit of Octavia Butler and loaded with meaning for the present day, An Unkindness of Ghosts will appeal to a wide variety of readers. Solomon's impassioned, speculative, literary book is sorely needed on library shelves."
--Booklist
"The HSS Matilda is a well-crafted world, and...the diversity of the people who inhabit it--their various sexual and gender identities, physical abilities, and psychological burdens--is refreshingly visible and vital even as they face brutal discrimination for their differences. An entertaining novel that does not neglect the vitality of its story while probing society's assumptions."
--Kirkus Reviews
"In Rivers Solomon's highly imaginative sci-fi novel An Unkindness of Ghosts, eccentric Aster was born into slavery on--and is trying to escape from--a brutally segregated spaceship that for generations has been trying to escort the last humans from a dying planet to a Promised Land. When she discovers clues about the circumstances of her mother's death, she also comes closer to disturbing truths about the ship and its journey."
--Buzzfeed, Included in 28 Exciting New Books You Need to Read This Fall
"The HSS Matilda is a generation ship organized much like the antebellum South. Embroiled in a grudge with a brutal overseer and sowing the seeds of civil war, sharecropper Aster learns there may be a way off the ship if she's willing to fight for it."
--Publishers Weekly; included in Fall 2017 Adult Announcements, Science Fiction, Fantasy, and Horror
"With An Unkindness of Ghosts, Rivers Solomon inarguably shows themselves to be a literary child of genre leader Octavia E. Butler...Suffused with the past, the present, and the future of human experiences in its events, An Unkindness of Ghosts launches the career of a brilliantly gifted and important new writer in science fiction."
--Foreword Reviews, Starred Review
"Slavery, racial segregation, and resistance, all set in outer space."
--Nylon, Included in Fall Bookseller Recommendations
"Rivers Solomon pulls you through a difficult journey that is shockingly real, while being utterly engaging as science fiction...It's refreshing to read a new writer who can manipulate such well known motifs, while churning out a story that still instigates a contemporary discourse, one that dares to remind the reader that the past doesn't always stay buried."
--Geeks OUT
"An Unkindness of Ghosts absolutely blew me away...A must read on so many different levels and needs to be on your reading list."
--Utopia State of Mind (blog)
Aster has little to offer folks in the way of rebuttal when they call her ogre and freak. She's used to the names; she only wishes there was more truth to them. If she were truly a monster, she'd be powerful enough to tear down the walls around her until nothing remains of her world.
Aster lives in the lowdeck slums of the HSS Matilda, a space vessel organized much like the antebellum South. For generations, Matilda has ferried the last of humanity to a mythical Promised Land. On its way, the ship's leaders have imposed harsh moral restrictions and deep indignities on dark-skinned sharecroppers like Aster. Embroiled in a grudge with a brutal overseer, Aster learns there may be a way to improve her lot--if she's willing to sow the seeds of civil war.
Loved by our collective!
A gripping work of science fiction that establishes Rivers Solomon as one of my new favorite authors! While the depiction of individual and collective trauma in this novel makes for an emotionally fraught read, I fell in love with the protagonist and their chosen family. Descriptions of this book that boil down to "the Antebellum South but in space" fail to capture the unique world building, strong queer representation and neurodiversity, or nuanced political themes explored.
---
Product Details
Paperback

340 pages

ISBN

9781617755880

Publisher

Akashic Books (10/3/17)

Dimensions

5.3 x 1 x 8.3 inches

Tags
---