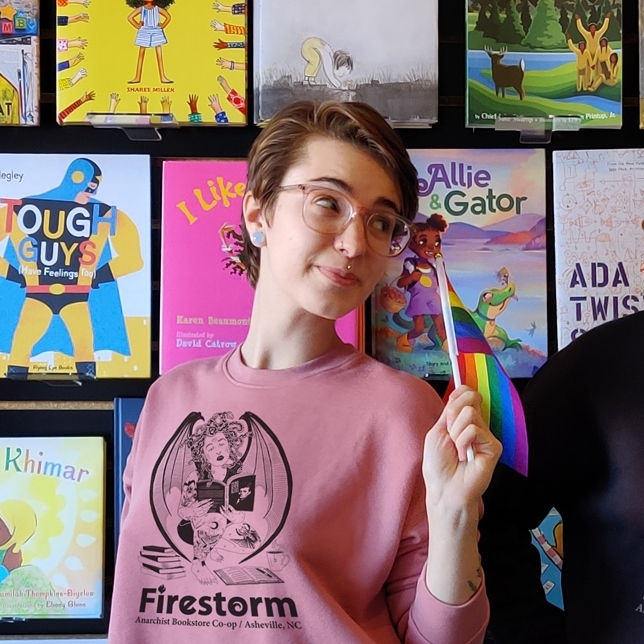 Esme Rodehaver
Esme's Picks
"In Appalachia, coal isn't just coal. It's the blackest part of a constellation of knowledge that tells us it is easier in our world to bury a person alive than to lift her up."

Historian Elizabeth Catte's biting response to J.D Vance's popular memoir Hillbilly Elegy does exactly what it sets out to do. What You are Getting Wrong About Appalachia retrieves the narrative from the sticky fingers of sensational journalists, "local color" writers, eugenicists disguised as academics, and self-appointed Appalachian representatives such as Vance. Through storytelling and photographic imagery of the labor and civil rights movements which are deeply rooted in these hills, Catte complicates our belief in a white, complacent, and doomed Appalachia.

Read for: a solid history of Appalachia post-colonization, sharp and highly quotable writing

Content warnings: State and interpersonal violence (non-graphic), discussions of white supremacy
"She learns to ask. To want. To hope. Learns the feeling of responding to a hunger that lives, not in her belly, but somewhere else in her body."

A People's History of Heaven offers a portrayal of an impoverished urban community in India which is both honest about the hardships this community faces and is not written to be tragedy-porn. Instead, Subramanian's focus is the ways in which the members of the community fiercely show up for one another across difference to not only survive, but to carve out joy in their little piece of the ironically (or perhaps aptly) named "Heaven." The people of Heaven are tenacious, loyal, resourceful, and creative. They reject the pitying gaze of international "aid" and engage in resistance in the tradition of grassroots Indian activists. A People's History of Heaven is not a replacement for deeper conversations around gender-violence, colorism, government corruption, and rising Hindu nationalism in India, but it is an important acknowledgement of the inherent value and agency of the people that fall "at the bottom" of these structures.

Read for: lyrical prose, uplifting representations of gender and sexual diversity with family support, post-colonial analysis, youth friendly

Content warnings: One scene of verbal harassment towards a transgender youth. State violence and poverty (not graphic).
"They're all terrified of a word they don't understand, scared that religious law is going to infiltrate the land, but meanwhile they support the death penalty, are anti-choice, and think creationism should be taught in schools because of… wait for it… religion."

Ahmed wrote Internment before the results of the 2016 election, and the way she was able to predict the trajectory of rising white nationalism encouraged by the Trump administration can only be described as chilling. Internment shows us a world in which brutal internment camps for Muslim Americans are both horrifying and entirely plausible. Through her courageous teenage protagonist, Layla, Ahmed honors youth resistance building and delivers a call to action which is unable to be ignored.

Read for: A good history of concentration camps on American soil contextualized in our current political moment, own voices storytelling, diverse portrayals of Muslims

Content warnings: Islamophobia, State and interpersonal violence, brief mentions of sexual violence, somewhat graphic (non-sexual) violence + blood, violence against children, gun violence, death of a main character
---