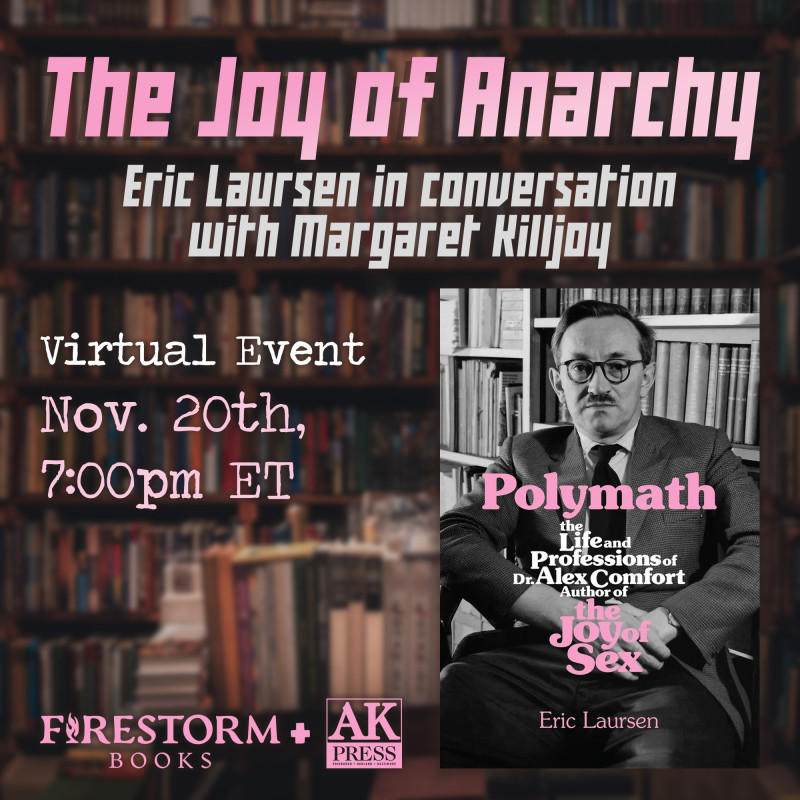 Nov 20th, 2023
The Joy of Anarchy
Writer Eric Laursen presents his new book Polymath in conversation with fellow author and podcaster Margaret Killjoy.
Polymath: The Life and Professions of Dr Alex Comfort, Author of The Joy of Sex is the first biography of one of the most remarkable and wide-ranging intellectuals of the second half of the twentieth century. Alex Comfort was a British poet, novelist, biologist, cultural critic, activist, and anarchist, and the author of the international bestseller, The Joy of Sex. He played a vital role in making gerontology (the study of aging) a viable branch of modern science, energizing the direct-action movement for nuclear disarmament, revitalizing anarchism as a political philosophy in the post-World War II decades, and persuading twelve million readers of his most popular book to banish guilt and anxiety from sex in favor of pleasure and closer human understanding.
Eric Laursen is an independent journalist, historian, and activist. He is the author of The People's Pension, The Duty to Stand Aside, and The Operating System. His work has appeared in a wide variety of publications, including In These Times, The Nation, and The Arkansas Review. He lives in Buckland, Massachusetts.
Margaret Killjoy is a transfeminine author born and raised in Maryland who has spent her adult life traveling with no fixed home. A 2015 graduate of Clarion West, Margaret's short fiction has been published by Tor.com, Strange Horizons, Vice's Terraform, and Fireside Fiction, amongst others. She is the author of A Country of Ghosts, The Lamb Will Slaughter the Lion, and The Barrow Will Send What it May. She is also the host of the podcast Live Like the World is Dying and Cool People Who Did Cool Stuff on iHeartRadio.