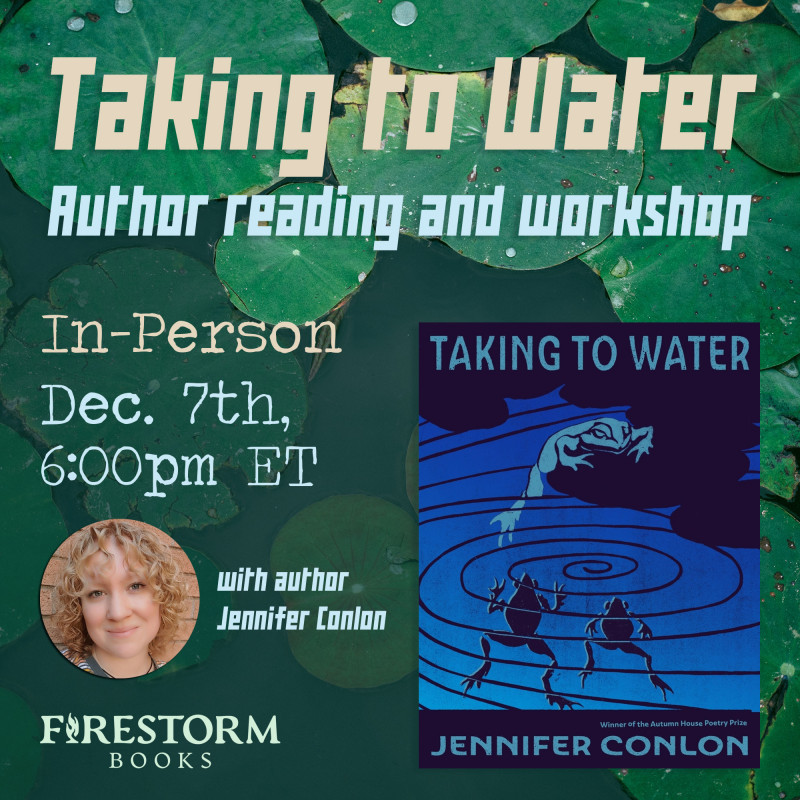 Thursday, Dec 7th, 6:00pm – 7:30pm ET
Taking to Water
A Reading and Workshop with Jennifer Conlon
In this event, Jennifer Conlon will read from Taking to Water, a debut poetry collection based in NC about gender questioning, concerned with the survival of trans and nonbinary kids who live in places that do not allow them to thrive. Following the reading, there will be a short Q&A. Afterwards folks will be welcomed to stay for a workshop.
Jennifer will lead a poetry workshop, providing a handout and writing utensils. The writing workshop will be based on a prompt from the book, and after writing, participants will be invited to share what they wrote in an open mic format. The prompt will ask participants to write their own self-glossary, which can be vulnerable and celebratory.
Jennifer Conlon is from North Carolina and earned their MFA in poetry from Arizona State University. They were awarded the 2015 Aleida Rodriguez Memorial Award in Creative Writing and the 2017 Katharine C. Turner Prize from the Academy of American Poets. More recently, Jennifer won the 2021 Boulevard Poetry Contest for Emerging Poets. Their poems have been published by Bayou Magazine, Juked, Bennington Review, DIALOGIST, Threadcount, and elsewhere. Jennifer lives in Tempe, Arizona, where they teach at Arizona State University. Taking to Water is their first book.
Content Warning: This event may include discussion of sexual assault, child abuse and self-harm and suicide.