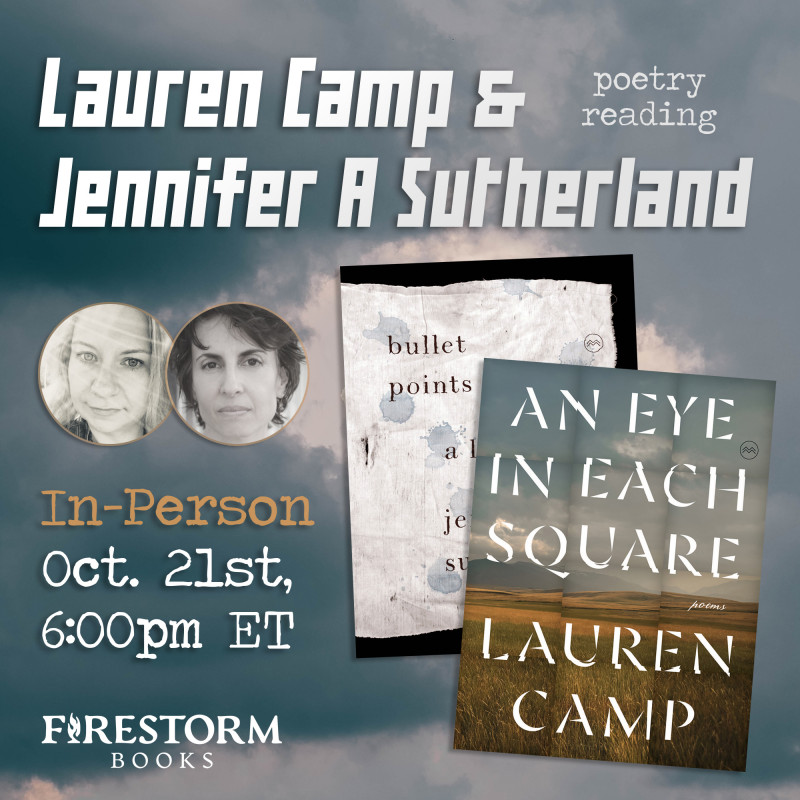 Saturday, Oct 21st, 6:00pm – 7:30pm ET
Lauren Camp & Jennifer A Sutherland
A Poetry Reading
Lauren Camp—Poet Laureate of New Mexico—and Jennifer A Sutherland read from their new books, just published this summer by Durham-based River River Books.
Lauren Camp's An Eye in Each Square is entwined with the work of enigmatic visual artist Agnes Martin and the West Coast's environment, while Jennifer A Sutherland's Bullet Points is a hybrid, book-length poem about a shooting that occurred in a Connecticut courthouse in 2013, where the poet was present as a trial lawyer. Lauren and Jennifer will read from their work, and participate in a Q&A afterwards.
Lauren Camp is the Poet Laureate of New Mexico and author of seven books. Her honors include the Dorset Prize and finalist citations for the Arab American Book Award, Housatonic Book Award, and New Mexico-Arizona Book Award. Her poems have appeared in many journals and anthologies, including Kenyon Review, Prairie Schooner, Blackbird, The Common, and Beloit Poetry Journal. Her work has been translated into Mandarin, Turkish, Spanish, and Arabic and she has received commissions from SITE Santa Fe and the Museum of International Folk Art to create poetry in response to art installations. In 2022, she was Astronomer in Residence at Grand Canyon National Park.
Jennifer A Sutherland is a poet, essayist, and attorney in Baltimore. Sutherland's work has appeared or will appear in Hopkins Review, Best New Poets, Denver Quarterly, I-70 Review, Cagibi, Appalachian Review, Northern Virginia Review, and elsewhere. She won first place in Streetlight's 2018 Poetry Contest for her poem, "An Elegant Variation." Sutherland completed her M.F.A. in creative writing at Hollins and is an alumna of workshops at Bread Loaf, Tin House, and Kenyon Review.