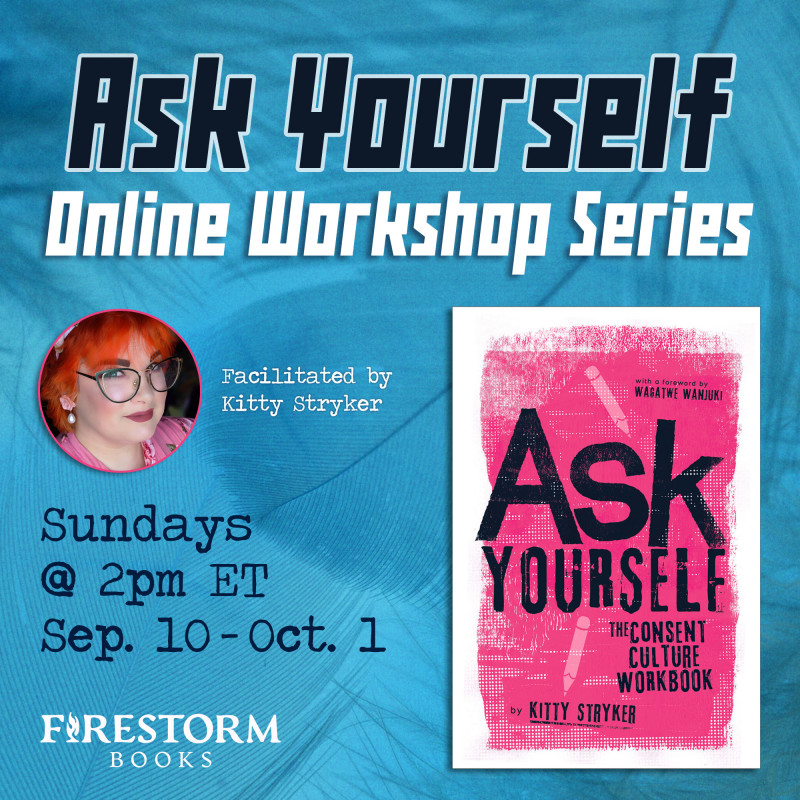 Sunday, Sep 24th, 2:00pm – 3:00pm ET
Ask Yourself
A Consent Workshop Series
Every Sunday from September 2023 until October 2023
Kitty Stryker, the author of Ask Yourself: The Consent Culture Workbook, hosts an online discussion group based on prompts from her book for September, dubbed Consent Month by the National Coalition for Sexual Freedom! Joined by a special guest each week to help kick off a one-hour casual discussion, let's get vulnerable as we talk about what a consent culture is, and how we can implement it with compassion in our day-to-day lives. Come prepared to think critically and to listen curiously!
Sep. 10th: Introspection
Sep. 17th: Our Relationship To Each Other
Sep. 24th: Our Relationship To The Community
Oct. 1st: Reflection
Solidarity copies are available at no cost for those who need them—use promo code "SOLIDARITY" during the Eventbrite checkout (valid only until 9/17/23).
Kitty Stryker is one of the people who coined the term "consent culture", as well as being an anarchist activist, queer femme, and leftist doomsday prepper located in the San Francisco Bay Area. She is a freelance writer with bylines at Teen Vogue, Vice, Rolling Stone and more, and enjoys playing TTRPGs in her free time! kittystryker.com