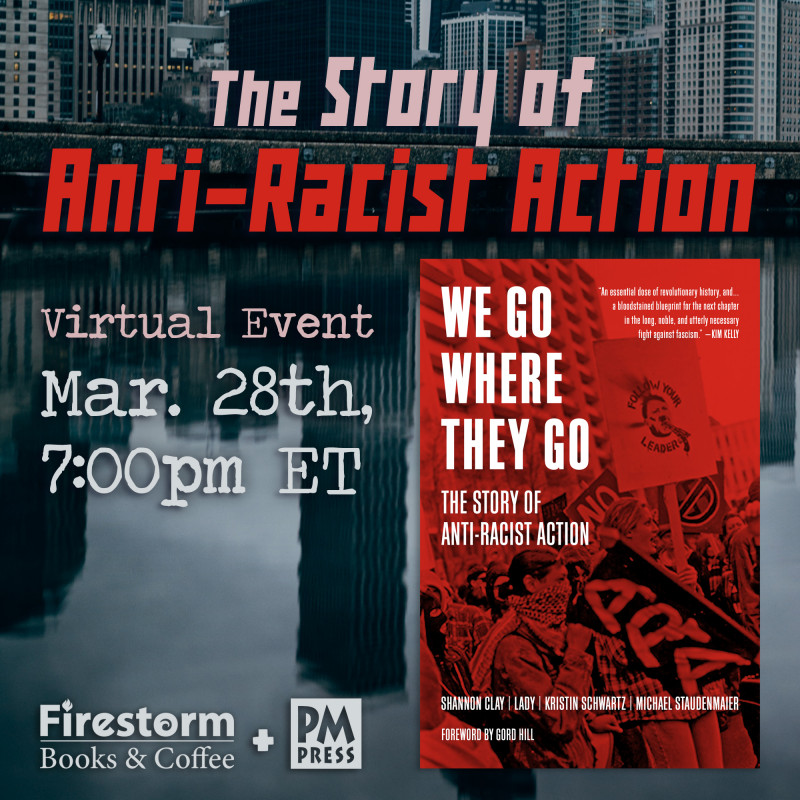 Mar 28th, 2023
The Story of Anti-Racist Action
Three contributing authors from We Go Where They Go will discuss their new book on the history of Anti-Racist Action (ARA) and the thrilling story of a massive, forgotten youth movement that set the stage for today's anti-fascist organizing in North America.
Based on extensive interviews with dozens of ARA participants, We Go Where They Go: The Story of Anti-Racist Action tells ARA's story from within, giving voice to those who risked their safety in their own defense and in solidarity with others. In reproducing the posters, zines, propaganda and photos of the movement itself, this essential work of radical history illustrates how cultural scenes can become powerful forces for change. Here at last is the story of an organic yet highly organized movement, exploring both its triumphs and failures, and offering valuable lessons for today's generation of activists and rabble-rousers. We Go Where They Go is a page-turning history of grassroots anti-racism. More than just inspiration, it's a roadmap.
Shannon Clay is a student, historian, and community activist from the Mountain West. Coming up after ARA had largely declined, he learned of its little-known history through anarchist networks and saw the need to document and publicize its history for a new generation of activists. He has been involved in student organizing and in prison solidarity and abolition work.
Michael Staudenmaier is a veteran of many anti-fascist, anti-imperialist, and anarchist projects over the past quarter century, including work with ARA Chicago in the 1990s and 2000s. He is the author of Truth & Revolution: A History of the Sojourner Truth Organization, 1969–1986 and other many shorter works of political analysis and historical scholarship. He works as assistant professor of history at Manchester University in Indiana and lives in Chicago with his family.
Kristin Schwartz grew up with the Toronto chapter of ARA from 1992 until 2003, and is grateful to have had that opportunity to contribute to the long struggle against white supremacy. She went on to work in community radio and has produced several audio documentaries including Women: The Oppressed Majority (2016), The Latin American Revolution (2014), and The Ravaging of Africa (2007); some were syndicated across the Pacifica Network. Her writing has been published in Our Times, Canadian Dimension, the Canadian Centre for Policy Alternatives Monitor and Labour/Le Travail.