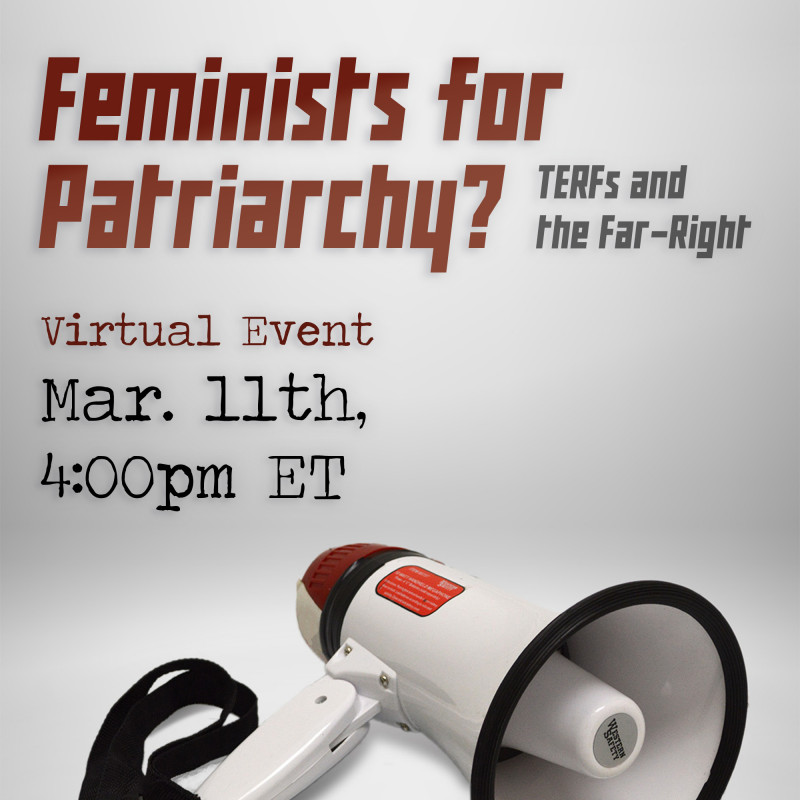 Mar 11th, 2023
Feminists for Patriarchy?
TERFs and the Far-Right
When Judith Butler called TERFs fascist in a 2021 op-ed, some assumed that the influential feminist theorist was being hyperbolic. But in recent years, an emerging alliance between anti-trans radical "feminists" and the far-Right has brought together TERFs and media personalities like Tucker Carlson, right-wing think-tanks like the Heritage Foundation, and even open white supremacists like the Proud Boys. While this coalition is strange, it's not unprecedented—we can see its roots in the historic collaboration between white feminists and Right-wing Christians who sought to use state power against pornography and sex work in the late 1970s and 80s.
In this virtual conversation, two researchers from Health Liberation Now! explain the far-Right/TERF crossover, share information on the key players, and offer some ideas about what communities can do to stay safe and oppose the political forces acting in opposition to health liberation for transgender, detransitioned, retransitioned, and gender diverse people.
This event is a fundraiser for jailed forest defenders in Atlanta. Learn more at atlsolidarity.org.
Ky Schevers (she, her, hers): A genderweird human passing as a transmasculine butch dyke. Previously known as CrashChaosCats, she lived as a detransitioned woman for seven years and helped create the radical feminist detrans women's community. She became disillusioned with radical feminism and now sees what she went through as a kind of anti-trans conversion practice. She has since disengaged from her former community and now works to raise awareness of the harms and dangers of ideologically motivated detransition as a conversion practice. She also uses her background to help monitor and resist TERFs and other anti-trans activists. She aims to help create better resources for trans and detrans people.
Lee Leveille (s/he, him/her, his/hers): As a Jewish, disabled, trans androgynos, Lee has been a radical health liberation advocate for over a decade. S/he first wrote about his/her experiences in the late 2000s, delving into disability justice, trans rights, and psychiatric oppression. Over time s/he began organizing with trans and detransitioned people for health equity, only to resign in protest after witnessing organized efforts to undermine trans health care. S/he re-emerged to the scene in late 2020 to build Health Liberation Now!, an online resistance resource for community organizers fighting for queer and trans liberation.
Health Liberation Now! (healthliberationnow.com) is a free resistance resource offering critical insight into the gaps in transgender health and connected politics for transgender, detransitioned, nonbinary, and gender diverse people. Everyone has the right to safe, effective, and compassionate health care that reflects the full spectrum of their needs, experiences, and right to self-determination.