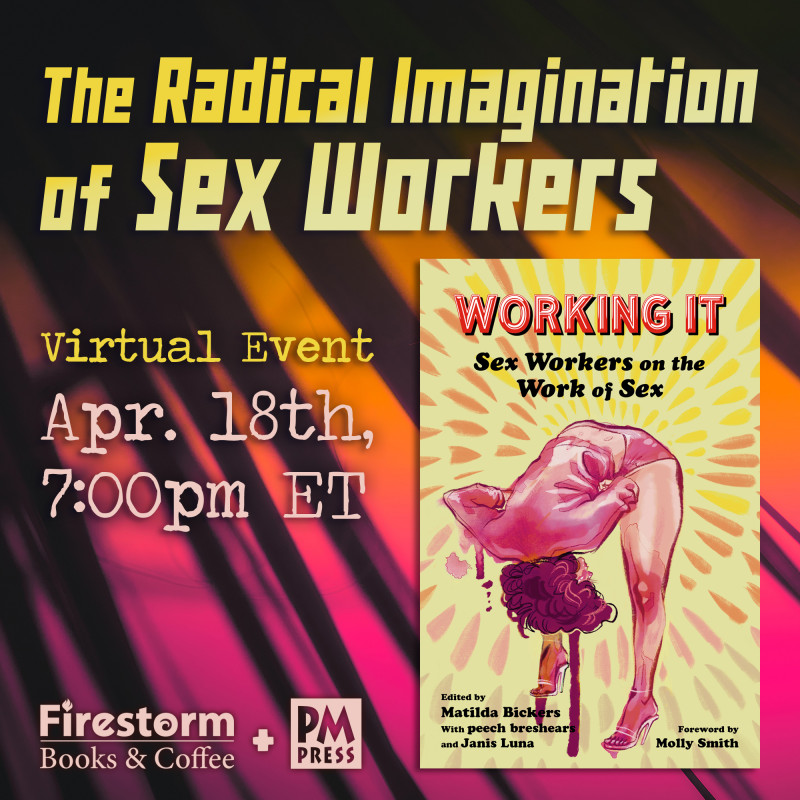 Tuesday, Apr 18th, 7:00pm – 8:30pm ET
The Radical Imagination of Sex Workers
Editor Matilda Bickers is joined by Camille and Monty Monster slayer, two contributors to Working It, a fiercely intelligent, fantastically transgressive portrait of the lives of sex workers.
Packed with first-person essays, interviews, poetry, drawings, mixed media collage, and photographs, Working It: Sex Workers on the Work of Sex honors the complexity of lived experience. Sometimes heartbreaking, sometimes hardboiled, these dazzling pieces will go straight to the heart.
Matilda Bickers is an artist and writer originally from Boston's South End. Her experience in sex work, which she entered at age eighteen, has enabled her to focus on art and activism and the vital intersection of the two. She has performed her written work at the Radar Reading Series in San Francisco, and with Sister Spit in Portland, OR. Witnessing the experiences of other people faced with only terrible options in a world uninterested in their success or even survival, Bickers has worked to create spaces to amplify and showcase their creative work, from Working It, a quarterly zine of sex worker art and writing, to the annual Portland Sex Worker Art Show. Bickers is currently writing and illustrating Aspiration Risk, a graphic novel about her ongoing attempt to leave the sex trades for a career in healthcare, and the painful parallels between the two industries.
Camille has numerous hoe names but currently goes by Muva Dragon on the Internet. She lives in the Carolinas as a queer mother in a marriage between two loving Aquariuses. She is the daughter of an abolitionist and a drug dealer turned truck driver, and granddaughter of a former field hand and an army veteran, the great-granddaughter of an enslaved mother of thirteen, and great-great-granddaughter of a midwife. She loves her lineage and her proximity to royalty and embodies her ancestral power in all she does when she can.
Monty Monster Slayer was a dancer for four years and an artist out of the womb. Monty's art transforms her bitter and humorous energies into a celebration of women's strength and beauty. Unbeknownst to them, the actions of swine-like sex consumers and critics would become fodder for her pieces, which elevate the female form and experience through representational figurative art.