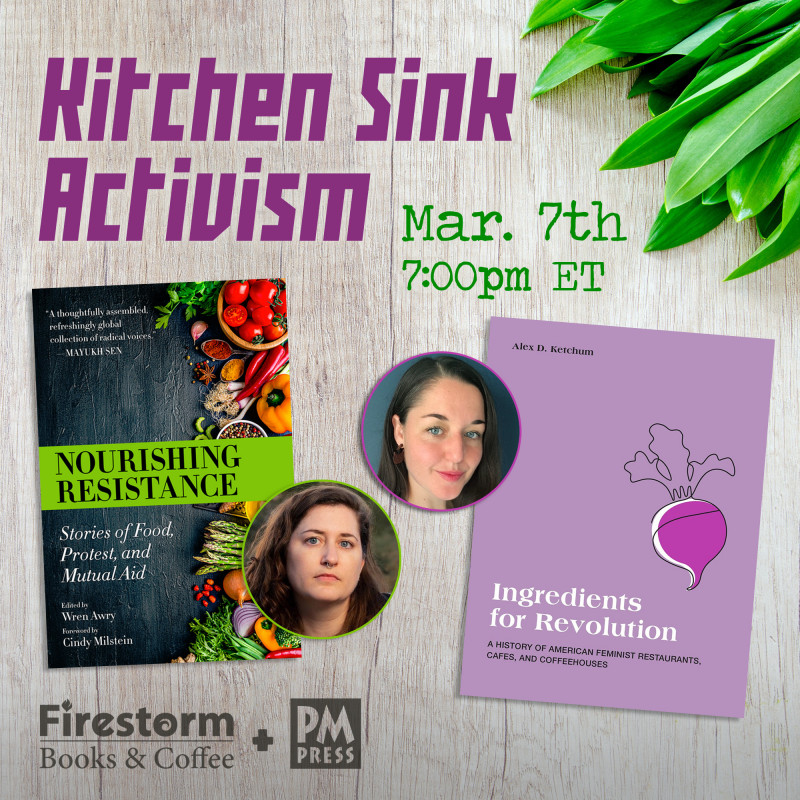 Mar 7th, 2023
Kitchen Sink Activism
Wren Awry, editor of Nourishing Resistance: Stories of Food, Protest, and Mutual Aid (2023), and Alex Ketchum, author of Ingredients for Revolution: A History of American Feminist Restaurants, Cafes, and Coffeehouses (2022), will join us for an exploration of the role food plays in movements for social change. Drawing on their recently published books, Wren and Alex uncover the liberatory potential of shared meals.
Through essays, articles, poems, and stories, Nourishing Resistance argues that food is a central, intrinsic part of global struggles for autonomy and collective liberation. Brimming with archival research, interviews, and photographs, Ingredients for Revolution is a fundamental work of women's, food, and cultural history.
Dr. Alex Ketchum is the Faculty Lecturer of the Institute for Gender, Sexuality, and Feminist Studies of McGill University. She is the Director of the Just Feminist Tech and Scholarship Lab. Her work integrates food, environmental, technological, and gender history. She is the author of Engage in Public Scholarship!: A Guidebook on Feminist and Accessible Communication, How to DIY A Feminist Restaurant, and How to Organize Inclusive Events: A Handbook for Feminist.
Wren Awry is a writer, editor, and archivist whose work ranges from researching and writing about the role of food in labor strikes, mutual aid projects, and revolt to helping with community dinners at their local, collectively run social center. They've written about food for publications including The Rumpus, Entropy, and Blind Field: A Journal of Cultural Inquiry; and have facilitated various culinary writing classes, including garden poetry for first graders and a community workshop on queer food writing. Most recently, they've been digging through radical, labor, and zine archives to find materials related to food and cooking, and are learning to build archives on their own and in collaboration with others.