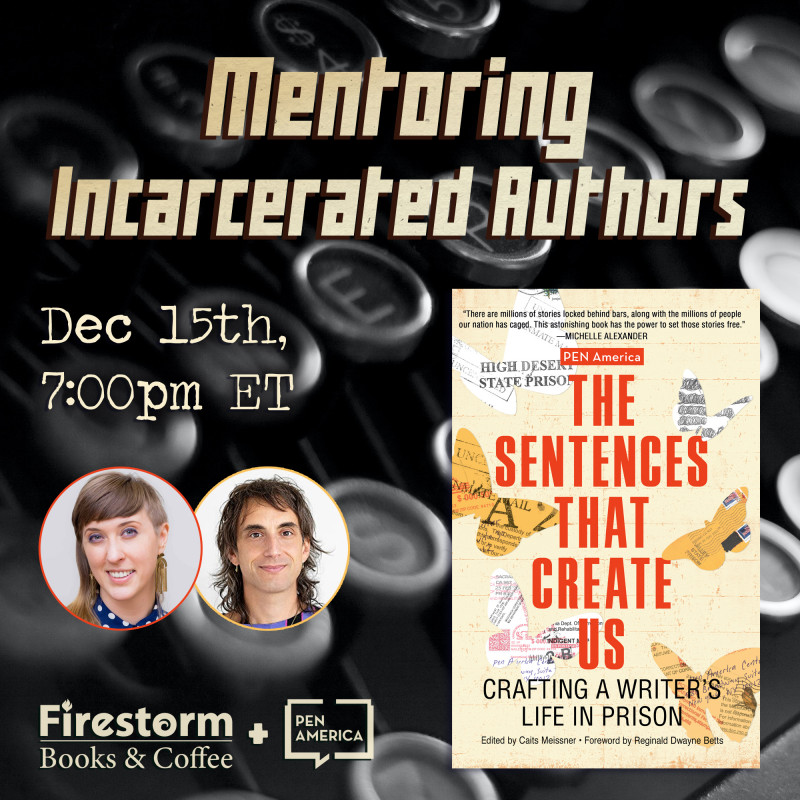 Dec 15th, 2022
Mentoring Incarcerated Writers
In this virtual event, Scott Branson and Caits Meissner will discuss how authors can connect with and mentor incarcerated writers. Hosted in collaboration with Asheville Prison Books Program, the University of North Carolina Asheville's Prison Education Program, and the Great Smokies Writing Program, this conversation and skill share will give you all the tools you need to cultivate silenced stories.
Caits Meissner is the Director of Prison and Justice Writing at PEN America, where she edited The Sentences That Create Us: Crafting A Writer's Life in Prison (Haymarket Books, January 2022), of which the Mellon Foundation funded 75,000 copies to reach readers in United States prisons free of charge. Her poems, comics, essays and curation have appeared in The Creative Independent, The Rumpus, [PANK], Harper's Bazaar, Adroit, Literary Hub, Split This Rock, Bust Magazine, The Normal School, Hobart, and The Guardian, among others.

Scott Branson is a queer/trans anarchist writer, artist, translator, community organizer, and teacher. They translated Jacques Lesage de la Haye's The Abolition of Prison (AK Press, 2021) and Guy Hocquenghem's second book of essays addressing the May 1968 uprising in France, Gay Liberation after May '68 (Duke University Press, 2022), for which they also wrote a critical introduction. Scott is the author of Practical Anarchism: A Daily Guide (Pluto Press, 2022) and is currently working on a book about the institutionalization of queerness for Duke University Press as well as a book on trans-anarcha-feminism. They often contribute to The Final Straw Radio, a weekly anarchist radio show and podcast.