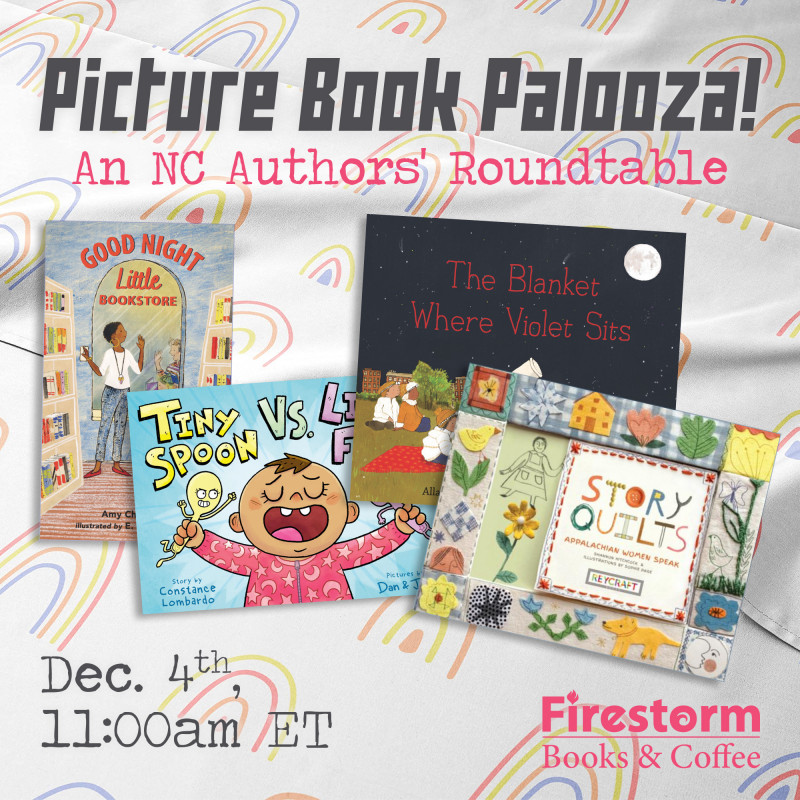 Sunday, Dec 4th, 11:00am – 12:00pm ET
NC Authors' Picture Book Palooza!
Every Monday in December 2022
North Carolina children's picture books authors Amy Cherrix (Good Night, Little Bookstore), Allan Wolf (The Blanket Where Violet Sits), Shannon Hitchcock (Story Quilts, Appalachian Women Speak), and Constance Lombardo (Tiny Spoon vs Little Fork) join for this virtual event to share their work and discuss their influences and writing process.
Amy Cherrix grew up in quirky Asheville, NC, less than an hour from a formerly top secret NASA tracking station--a fact that inspired her love of science, and fueled her early fascination with hidden history. For six years she had the best job in the world as the children's book buyer at the fiercely independent Malaprop's Bookstore/Cafe in Asheville, NC.
Allan Wolf is the author of poetry, picture books, and young adult novels, including two North Carolina YA Books of the Year and one Los Angeles Times Book Prize runner-up. He is also a presenter and performance poet who puts on assembly presentations in schools and libraries. More importantly, Wolf is the official poet laureate of the one-hundred block of Blue Ridge Avenue between Haywood Road and Craggy Avenue in West Asheville, NC. His latest invention is Poggling—which combines poetry and juggling.
Shannon Hitchcock was born in North Carolina and grew up in the foothills of the Blue Ridge Mountains. She is the author of four middle-grade novels, Flying Over Water, One True Way, Ruby Lee & Me, and The Ballad of Jessie Pearl. Her books have been featured on many state award lists and have received acclaimed reviews. Story Quilts is the third picture book in her storyteller series, along with Saving Granddaddy's Stories and She Sang for the Mountains. Shannon currently lives in Asheville, North Carolina where she can see the mountains every day.
Constance Lombardo is the author of the picture book Tiny Spoon vs. Little Fork (illustrated by Dan & Jason) and the author/illustrator of the highly illustrated middle grade Mr. Puffball series. Her debut picture book, Everybody Says Meow was chosen as an Anna Dewdney Read Together Award Honor book. She gets most of her ideas from talking to her old beagle, Louie, who has been through a lot. They enjoy walking around their neighborhood together observing all the different creatures. Especially groundhogs.